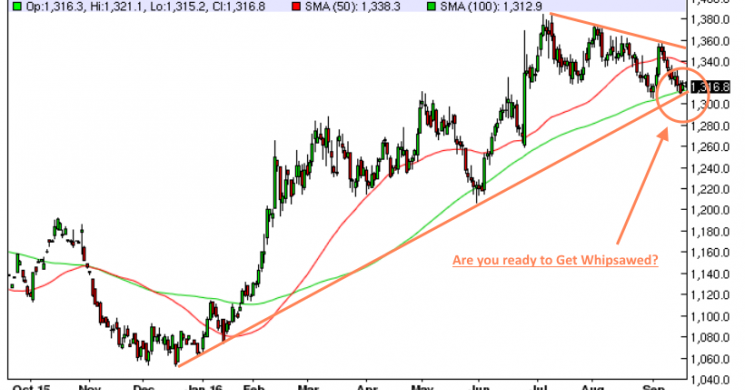 Technicals: S&P Short Today, Gold Whipsaw is Coming
Short Term Traders are About to Get Hurt in Gold
interactive chart HERE
Violently Unchanged?
Gold is sitting near: the 100DMA,  Bull market Trend line, and above the May 3, Pre-Brexit high. Everyone who is playing Gold is watching this area. Which is why we would not be playing it directly.
First way wrong way
intraday vs settlement entries
Fed Announcement
After hours spoofing
We Are Spectating
Unless you shorted it in the $1325 area as we should have, the smartest trade is to do nothing. Even after the Fed announces, reversals are very possible. The Fed will hike. And every time it does not hike, that only increases the probability of a December hike. And that hurts the "tradeability" of Gold right here.Coin flips are not easy. So we are content to sit back and watch (hope) the hot money get whipped around before the macro reasons to invest in Gold reassert themselves.
For example:
Bad
FED NOT HIKING- rally $10 but you buy it up $5
FED HIKING IN DECEMBER NEW FOCUS- crap
Even Worse
BOJ Announces Easing- Gold up $20, you buy it up $10
Fed Announces hike in response ot BOJ easing- dollar up, stocks still up, bonds up and ..crap
Tech Summary
watch for further selloffs to $1305- $1290
rallies to bearflag under 1325
$1333 is neutral with a bullet
$1339 settle is reversal
For us the trade would be to buy a Hedged Call spread but volatility is too high to play that way now.
S&P 500 Head and Shoulder?
Faith in Fed Effectiveness is on Trial Now
Admittedly truncated, but it is not uncommon for markets to test breakdown levels of H&S patterns to see if genuine. They lead to Bear Flags and false breakouts higher. We just prefer to view it as 2 markets. The one before last weeks 2% sell off and the one after. Normally we like to use options, but not on this one.
Sell it anywhere between 21.40 and 21.55- sell strength or weakness, your call
Stop losses  are 2153 to 2165 area -depending on entry and risk profile
Take home if under 2152 on close- leave stops in overnight for BOJ announcement
Target is 2100- risk reward generated Lose 10 or Make 40
interactive HERE
Disclaimer
 Ideas of others are intended to generate basis for your own proprietary ideas,opinions, and reasons for trades.
Good Luck
Soren K.
Read more by Soren K.Group