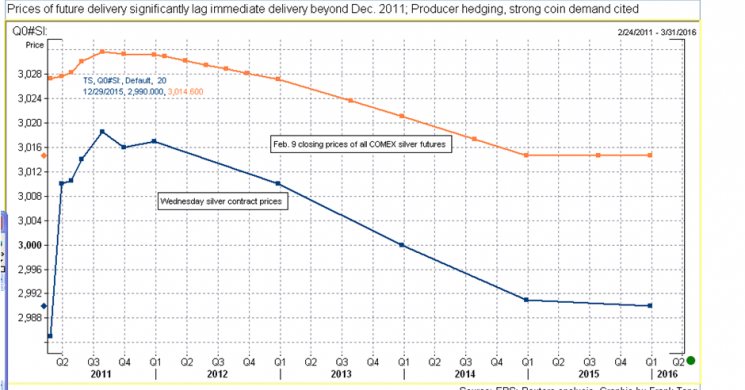 OVERNIGHT RECAP
JPM CHASE WINS DISMISSAL OF CHARGES IT ALLEGEDLY MANIPULATED  COMEX SILVER- REUT-  more on this below
BREXIT VOTE SEES STAMPEDE BY BANKS INTO HIGHER GOLD TARGETS- BBERG- so they're long or just not short anymore?
GOLD FIX: $1317; GBP 976; EURO 1183- LBMA
OIL(still) HEADED TO $10 A BARREL, GARY SHILLER-  ECON TIMES-  broken clock not right yet, see below
BILLION $ MANAGER UNRETIRESTO BET AGAINST CANADIAN REAL ESTATE-BETTER DWELLING- more below
Commodities
GOLD: 1320 -6.90
SILVER 18.46 +0.058
BRENT OIL: 50.18 -0.43
WTI: 49.38 -0.50
NG: 2..88 UNCH
CMX COPPER 218.80 +0.20
SOY: 1119.00 +6.50
CORN: 379.75 +2.00
WHEAT: 446.24 +1.75
Stocks
ES: 1037 +0.43%
DOW mini: 17379 +.45%
FTSE :6271 +2.14%
DAX: 9580 +1.41%
NIKKEI15566 +1.59%
Currencies
GBP: 1.3354
EU: 1.1143
JPY 102.87
CAD: 1.2941
Silver was Rigged
Why this is bunk: the market was only partially backwardated. Spot was below the next 6 expirations. translation: there was no demand for immediate delivery. There was only demand in months where the last remaining MEN who took risk trading their own money had positions. Therefore sheep to be slaughtered.- We knew Shak and traded spreads off floor when this happenned. They should not have lost this case.
Yesterday, Silver rallied to 21 month highs. Ironically, JPM was found innocent of wrong doing in the 2011 Silver Market Spread Squeeze. JPMorgan Chase won a dismissal of the lawsuit placed against it by several floor locals who were market-makers in Silver spread markets for decades.
We were personally active in the Silver market during this time of late 2010 through early 2011 and remember what happenned. During thin overnight hours, JPM was rumoured to be selling the contango in Silver spreads eventually forcing them into backwardation. This is unusual because when it happens in the normal course of events, it is because of a shortage of supply available for immediate delivery. There was no shortage. This was a backdoor short squeeze engineered by JPM to take out several well heeled and important players in the Silver spread market. False pretenses like, technological use, and the Gold/Silver Spread were used to justify what in our experienced opinion was manipulation under Blythe Masters watch. Blythe BTW is no longer at JPM.. Do the Math. Spread traders, Daniel, Shak and 2 others were carried out on stretchers as their positions were largely made up of spread positions with no real direction bias. They alleged:
JPMorgan made "uneconomic" bids, or intended to rig the market at counterparties' expense.- we think they were right
Shak and coplaintiffs used  Silver Indicative Forward Midrates (SIFO) to substantiate this claim- the "tell" for true short supply is SIFO
Judge Paul Engelmayer was not moved and dismissed the case, as he did not see the correlation between Forward Rates and Silver spreads. Go figure. All he had to do was look at how PhiBro rigged the Silver market for Buffet in 1997 to understand. JPM was copying what they did.  They definitely played dirty. More on this later.
Gary Shilling Says Oil will Fall to $10 a Barrell... Again
In feb of 2015, Gary Shilling predicted a fall to $10 for WTI then trading at $52. He cited fundamentals that had yet to play out at the time. He rieiterated his claim on 4/18/16 adn again yesterday 6/28/16. Shiller is famous for making several macro predictions, and is still sticiking to his gunns on this one.
HEDGE FUND MANAGER BETS AGAINST CANADA REAL ESTATE
You may not know who Marc Cohodes is, but the 55 year old retiree is a Wall Street legend. Marc is the man the New York Times once called "the highest-profile short-seller on Wall Street" . And he has decided to come out of retirement to short  Canadian real estate.
Mush of the rally in housing, is foreign money coming in fro mChina and other politicall unfruiendly coubntries. It is driving hous prices up muc hthe same way Miam i has benefitted from Venezuelan immigration. But Canada's boom is unprecedented.  Codhodes cites that the averageToronto home is appreciating $550 a DAY.  Terms like "foreign money laundering have been used. And that this is unsustainable.
His pedigree? Founder of Copper River Partners, the fund that nailed the Lehman collapse in 2008.
So to Summarize,
dont buy Canadian REl estate,
the justice system doesnt know more about Silver than JPM does
and Gary Shiller is sticking to his guns
 -Soren K.
Read more by Soren K.Group