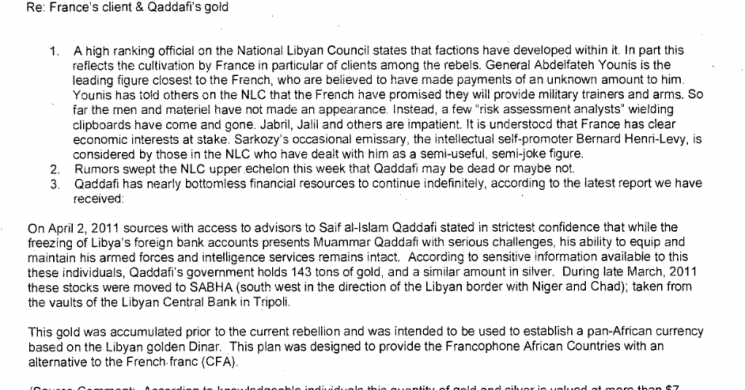 Gaddafi's Gold
Libyan dictator Gaddafi was executed over a Gold-Backed Currency he was introducing
The Pan-African Gold backed money would threaten the USD and French interests in the Oil Trade
The US sent in troops to kill Gaddafi at the behest of French President Sarkozy
Summary
Clinton's leaked emails confirmed the long-held "conspiracy theory" that the plan to take out Libya's then-dictator, Muammar Gaddafi, was motivated not by human rights concerns, but by Gaddafi's plan to introduce a gold-backed currency that would unite the entire African continent. This currency would then be used to sell oil in the global market, and the African continent would be less reliant on the American dollar, strengthening Africa's position in the world economy to the detriment of the NATO empire.
Libya's  Gold-Standard Idea Could Not Stand
Though the French-proposed U.N. Security Council Resolution 1973 claimed the no-fly zone implemented over Libya was to protect civilians, an April 2011 email [archived here] sent to Hillary with the subject line "France's client and Qaddafi's gold" tells of less noble ambitions.

The email identifies French President Nicholas Sarkozy as leading the attack on Libya with five specific purposes in mind:to obtain Libyan oil, ensure French influence in the region,increase Sarkozy's reputation domestically, assert French military power, and to prevent Gaddafi's influence in what is considered "Francophone Africa."

 

It Was Really About Gaddafi's Gold

Most astounding is the lengthy section delineating the huge threat that Gaddafi's gold and silver reserves, estimated at "143 tons of gold, and a similar amount in silver," posed to the French franc (CFA) circulating as a prime African currency. In place of the noble sounding "Responsibility to Protect" (R2P) doctrine fed to the public, there is this "confidential" explanation of what was really driving the war [emphasis mine]:

This gold was accumulated prior to the current rebellion and was intended to be used to establish a pan-African currency based on the Libyan golden Dinar. This plan was designed to provide the Francophone African Countries with an alternative to the French franc (CFA).

(Source Comment: According to knowledgeable individuals this quantity of gold and silver is valued at more than $7 billion. French intelligence officers discovered this plan shortly after the current rebellion began, and this was one of the factors that influenced President Nicolas Sarkozy's decision to commit France to the attack on Libya.)

Though this internal email aims to summarize the motivating factors driving France's (and by implication NATO's) intervention in Libya, it is interesting to note that saving civilian lives is conspicuously absent from the briefing.
full email HERESec of State Hillary Clinton in her first interview after Gaddafi was overthrown
Read more by Soren K.Group