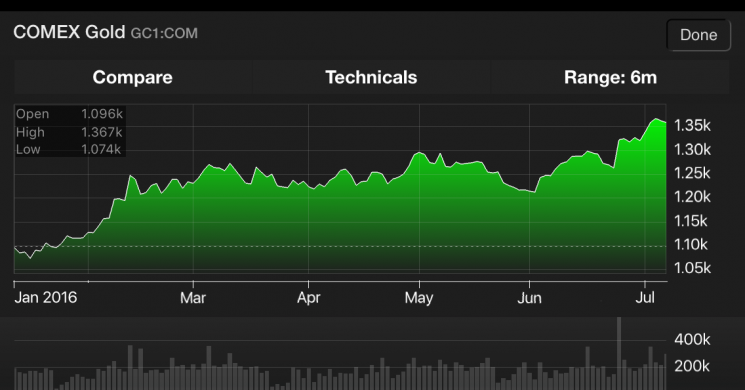 Technicals: As we write tonight it is becoming apparent that the Nikkei and the  Precious Metals Complex are reacting to the poor Japanese economic numbers and the good but not amazing US Job numbers on Friday. Bad news is good for stocks and good news is good for stocks. Who knew? The chances of a rate hike are perceived as lesser given those econ. numbers we guess.
To the people who think easy money will be the path to a higher stock market in the long run we say this: Are you kidding me? Have you seen the Nikkei performance for the last 10 years under easy money? At what point do you Central Bankers not look at the markets and say " The unintended consequences are growing at a faster rate than the desired effects. How come it now takes 10 dollars of debt to create 1 dollar of GDP?- Soren K.
Gold: (1358.40)
TRP  is 1301.00   Trend Reversal Point. A technical tool  used to measure retracement safety 
BULLish above 1350.
NTRL between 1336 and TRP
BEARish on print under TRP
By the numbers the market is bullish. But we feel it  is running up against large open interest in a sideways market. Friday's behavior was violently nowhere. That is a warning for us, despite the pure technical numbers.
Silver (2009)
TRP 1938
BULLish above 1970
NTRL betweeen 1970 and TRP
BEARish below TRP
- For interactive chart, click here
Several indicators are contradicting the pure technical analysis as in Gold above. The shorts have covered, the longs are not adding and margin hikes are beginning to weigh on the market. Seasonal indicators like Bernstein say Silver will get choppy and weaker from here. One model we consult says there is a 70% chance of sideways or lower movement for the next few weeks. which means to us there is a 30% of a spike high coming with a big retracement. The deck is beginning to be stacked against Silver establishing a base here in our opinion. It is a day traders market for sure right now.
Further Reading
- Soren K.
Read more by Soren K.Group