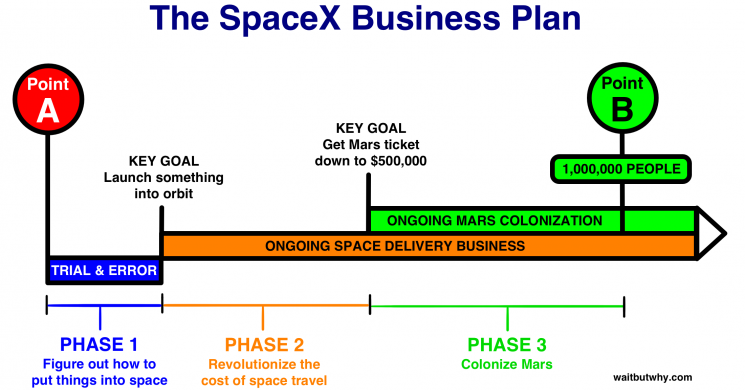 Why Did Tesla Bid for SolarCity?
Cowen Securities initiated coverage of Tesla Motors.h/t D.Piranha
The firm released a thorough 100 page report covering Elon Musk's crown jewel company. In short, they love the company, but hate the stock at these levels.Their analyst Jeff Osborne from the Clean Technology division initiated coverage with this: TSLA ($201), Underperform, $160 PT; *12-month Outlook*;
Cowen's Investment Thesis
In the 12-month investable time frame our rating contemplates, we see Tesla as a great company lead by a true visionary, but must acknowledge the asymmetric risk/reward profile for the stock at the market's current valuation. Simply, we see a lot more that can go wrong than can go right as the company transitions into Mr. Musk'sgreater vision as laid out in his Master Plan, Part Deux. We see the potential for delays in the introduction of the Model 3, ramp of  the Gigafactory and integration of SolarCity leading to increased cash burn levels.
One major issue Cowen has is with Teslas ability to "execute". Their second point echoes our observation on the acquisition of Solarcity by Tesla. Cowen's point being their inability to see the benefit to Tesla's operations in acquiring SolarCity. To wit emphasis ours :
FTR: The acquisition of SolarCity may be more of a benefit to the acquired company than to Tesla. We struggle to see quantifiable synergies attributable to Tesla.

Beyond operating expense reductions it remains to be seen what cross-selling opportunities truly exist over the next two to three years. We question how much knowledge transfer can occur from a Freemont, CA based auto assembly plant to a Buffalo, NY solar module facility. Longer term, we are positive on solar+storage systems, but the current regulatory construct in major markets does not make them economical.
For us, the answer why the deal was done is simple. Solarcity had dept payable to SpaceX and secured by Musk. The most valuable currency Musk had was Tesla's stock. Therefore he used that stock to buy SolarCity and in doing so paid himself. Sometimes it is that simple. This takes nothing away from Cowen's report. Our statements are conjecture based on a consilience of evidence and a touch of subjective probability. Theirs is rooted in hard science and is solid.
From the MarketSlant Article
FTA: Tesla then makes a bid outright to buy all of SolarCity at above market valuations using Tesla stock. This essentially ensures a payout to himself and his partners at SolarCity while eliminating the SpaceX debt. Now it all depends on the price of Tesla stock. And Tesla has been punished by the market since the announcement.
Finally there is the loaned stock by Elon Musk to SolarCity. If Tesla drops enough for a margin call, it is all over in our opinion. what we have not covered includes the valuation offerred to buy SolarCity. Public shareholders of Tesla should be incensed atthe price being paid for SolarCity. Meanwhile, much of SolarCity's stock is still in the hands of Musk and family members.If Tesla stock drops enough, it could take out potentially all 3 companies. Essentialy Musk is at the center of an American Keiretsu.
Full Article here: Elon Musk Played us
Tesla Board Said NO to Solarcity Deal in Feb.
Mr. Osborne goes on to point out ,incredibly, that just month's prior to the SolarCity bid,  the Board decided it was not in Tesla's best interest to get involved with SolarCity
FTR: Tesla's Board held a special meeting on February 29th according to the proxy to evaluate the combination with SolarCity. Following the discussion, the Board of Tesla determined not to proceed with the evaluation of a potential strategic acquisition of a solar energy company, "due to the potential impact on Tesla management's time and resources in light of Tesla's execution of ongoing operational and strategic initiatives, including Tesla's ongoing production ramp of its Model X vehicle." We believe the Board of Tesla should have stuck with its initial gut reaction....
Yet it Happened Anyway. We think it is obvious why. What isn't obvious is how Tesla's board was convinced to change their mind?
Tesla is the Rule, not the Exception
We think Tesla is dirty. But we cannot prove it. We think there are kickbacks, payoffs, and non-competitive practices going on (like SolarCity buying Batteries from Tesla to store energy). We also think that it is unlikely they will be uncovered because:
The technology is revolutionary
The Gov't can't be seen to once again be a fool (Solyndra) exploited by an opportunist who surfed a blind mandate
We also think that Tesla is representative of a government owned by coprorate interests. This one just happens to be in the headlines and has a cool story behind it. For every Tesla, how many deals did the Gov't cut paying off others with empty promises?
The recipe for success for Tesla and Musk's other companies is simple but not easy. Operational scale
Scale: to get buyers, prices have to come down. To get prices down, you need buyers
For Tesla to succeed as a business it must build on scale to reduce costs. Its product is a capital good. The largest cost per car is i nthe battery, which is around 25% of total manufacturing cost.
For Solar City to succeed it must also depend on scale. it depends on "rental" income on solar panels. It needs more production to drive the cost ofthose panels down.
SpaceX was a revenue generator that did not need to produce now. It collected money for services payable down the road. That cash flow was a financer of SolarCity, as was Tesla's stock loan by Musk himself. We don't see how Pre-orders will climb in light of the recent failed test launch
Short of achieving that scale, or SpaceX continuing to take in money while its business plan is in the "Trial and Error" stage,  our government will open its wallet again. And you will pay.- Soren K.
Read more by Soren K.Group