Russia, China, Saudis Talk Oil Back Up Despite Rise of Golden Yuan
China pledges to buy 'more US oil'
Russia and Saudis agree to extend output cuts through Q1 of 2018
OPEC attempts to keep prices stable has thus far been ineffective
Crude bouncing off the back of Asian jawboning last night after a  precipitous.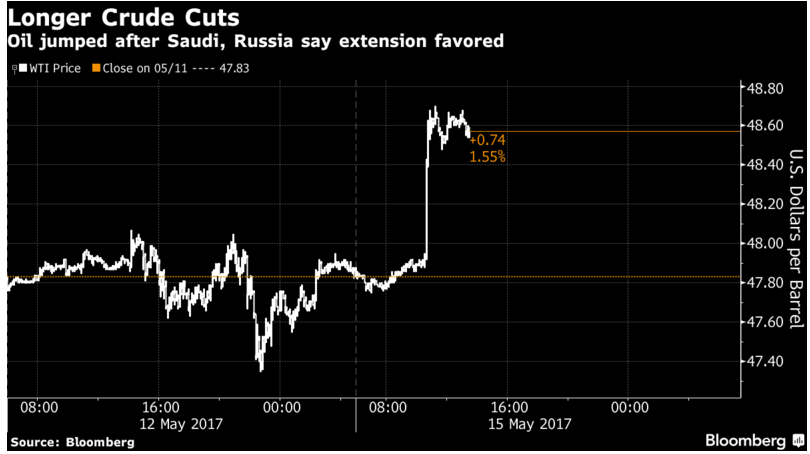 Some Perspective: OPEC Ineffective in Face of Growing Shale Oil. Market drops from a post OPEC collaboration high of $54 to $44. The bounce started, and the new Asian Order starts talking it up.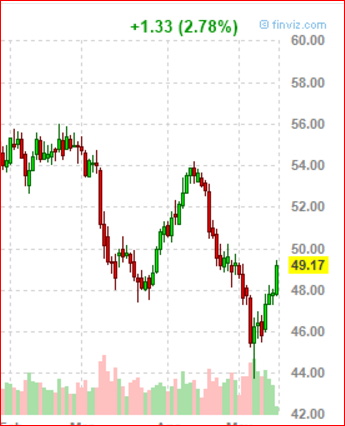 It is the stated intent and has been the policy shift for the 3 nations in the headline to begin escalating their oil deals in Yuan based exchanges. This is the beginning of the end of the Petrodollar. As they cut more deals to end the USD dominance as a currency reserve, their words will increasingly publicly contradict those actions.
We feel the public statements are just an attempt to slow the descent of Oil in USD terms while they pump as much as they can. The Chinese need the Yuan to appreciate against the USD for  the plan to have maximum effect. And we suspect the more Gold the Chinese accumulate, the more likely that is to happen. And then, the price of oil in USD can drop more, at which point it will not matter. 
In the meantime, Asian talk flexes its growing influence  as these three countries achieve what they desire, with Oil jumping back up 2.8% overnight. Don't believe the hype we say. 
US sellers of oil will be forced to sell USD for  Yuan in order to do deals where the real demand lies as the Yuan rises in reserve currency status. 
A barrel of West Texas Intermediate for June delivery was trading more than a dollar higher at $49.05 by 5:21 a.m. Eastern Time. The jump comes after Saudi Arabia and Russia said at a joint press conference in Beijing that they favor prolonging curbs on the output of global producers through the end of the first quarter of 2018. Also in China, Wang Yilin, Chairman of China National Petroleum Corp., said the country will import more crude oil and natural gas from the U.S. 
Futures added as much as 2.8 percent in New York, climbing to the highest intraday price in almost two weeks. While output curbs that started Jan. 1 are working, global inventories aren't yet at the level targeted by OPEC and its allies, Saudi Energy Minister Khalid Al-Falih said in Beijing alongside his Russian counterpart, Alexander Novak. The ministers agreed the deal should be extended through the first quarter of 2018 at the same volume of reductions, they said.
All we are saying is pay attention ot what is being done, not what is being said by these 3. They had a great teacher, the USA. From our previous piece, here is once  again  the pathway to the demise of the petrodollar.
Then : Gold >  USD > PetroDollar 

 Create Gold Demand: 1944 we steer world towards gold for good reason (we have it, and Germany's lack of Gold was the cause for WW2)
Inflate Debt: 1971 we have to monetize debt to pay for wars in vietnam and korea > go off gold standard
Create USD Demand: 1974 cut Arab deal USD for Oil > we sell them military arms, they buy UST

Now: PetroDollar > Gold / PetroYuan

Arabs have their own strong army, US not buying as much oil, China wants more Oil 
China wants to replace USD as world reserve, Arabs want to sell more oil (without shale competition)
Arabs cut deal to sell oil to china in Yuan. Arabs will buy gold with Yuan
Arab world increasing trust in China, Russia a product of implicit backing of currencies with Gold
Arab world increasing mistrust of US intentions- ambivalent to US policies

Endgame- Arabs get to sell oil locally to China and Russia. avoid shale oil competition in U.S. This is underpinned by Yuan and Rubble implicit backing by Gold, increasing mistrust of US, especially since Saudi's don't need our weapons any more. 
The Far East is all grown up now. Lying is par for thecourse where it relates to keeping the world off balance while they move to dump more dollars. 
Read more by Soren K.Group