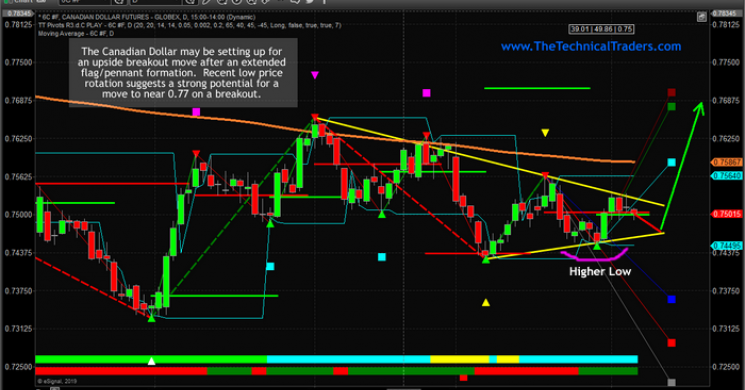 Our researchers, at Technical Traders Ltd., believe a current pennant/flag formation in the Canadian Dollar is suggesting an upside breakout move may be setting up over the next 5~7+ days.  Recently, the Canadian Dollar has weakened from 0.76875 to lows near 0.74375.  Current price rotation is almost perfectly aligned with Fibonacci Price theory suggesting that the recent failure to establish any new lower price level (highlighted on this chart in MAGENTA), suggests a tightening price range as the current pennant/flag formation completes over the next 5~7+ days.  It is our belief that as long as the current price level stays above the 0.74375 level throughout the completed pennant apex, an upside price break is very likely.
Skilled traders may look at this opportunity for an incredible 200+ pip upside price swing.  We believe the current downward price trend will be the last opportunity to target lower prices before the upside breakout occurs.  The next 3~5 days will likely see prices move a bit lower, targeting the lower support channel before the breakout rally begins.
Interestingly enough, this move in the Canadian Dollar aligns with our Gold/Silver research suggesting an April 21~24 date as a major bottom/basing date.  Could it be that some currency fluctuation or global market event will drive bigger moves in many of the major currencies while pushing traders into the precious metals markets at the same time?  We'll know more as we get closer to the April 21~24 date, but right now we believe all the tea leaves are aligning for some type of bigger move in later April and skilled traders should begin positioning their trades accordingly.
If you want to learn how valuable a team of dedicated researchers and traders can be to your bottom line, visit www.TheTechnicalTraders.com to learn how we can help you find and profit from these moves.  We believe you won't find anything like our proprietary research and trading triggers anywhere else on the planet.  Do yourself a favor and read some of our recent research posts to see just how valuable we can be to your future – then consider supporting our team and effort to assist you.
Chris Vermeulen Chief Market Strategist
Read more by TheTechTrader