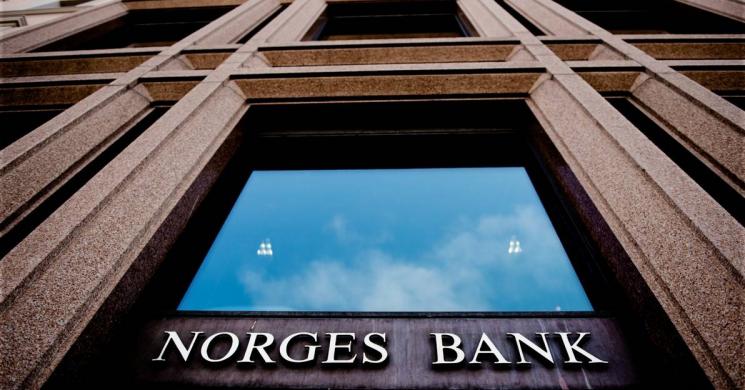 Norwegian Central Bank Files to Have Almost $1BB in U.S. Miners Not Disclosed to the Public
- Soren K.
Central Banks are Buying Gold and Don't Want you to Know
If you are wondering what an institution  really does when it is in the  process of loading up on something, wonder no more. When real buyers buy, they only talk about it after they're filled and want to talk the position up. Remember that when you hear any player state their opinion on a Stock or Commodity.  Players move markets and have to be careful of what they say, even if they are not trying to misinform listeners. And especially when you hear Banks come out and aggressively upgrade or downgrade Gold. Their public face is not necessarily a reflection of their private dealings. Case in point: 

Norges Bank Files Redacted 13F for 2016
Louis Cammarosano of Smauld- Norway's Central Bank, Norges Bank has filed with the United States Securities and Exchange Commission (the SEC) a request that its Form 13F* for the period ended June 30, 2016, be given confidential treatment. The Norges Bank filed its 13F** with the list of its security holdings redacted. A note on the cover page of the Norge Bank 13F filing reads:
"Norges Bank has submitted its Form 13F to the Securities and Exchange Commission pursuant to a request for confidential treatment. This action is consistent with discussions between Norges Bank and the Staff of the Securities and Exchange Commission to coordinate the reporting required under Section 13(f) with the extensive public disclosure requirements under Norwegian law applying to Norges Bank."
Rainy Day Saver Norges Bank
Bank Holds $600MM in Franco, Agnico and Newmont Alone
On August 12, 2016, Norges Bank filed their Form 13F with a request for confidential treatment that included a blank information table. On the same date, the Norges Bank also filed an Amended Form 13 F for the period ended June 30, 2015. This Amended Form 13F contained a list of equity securities held by the Norges Bank at then end of the second quarter of last year.
From reviewing the Norge Bank SEC filings, it appears that the Norwegian Central Bank has been requesting confidential treatment of its Forms 13F as far back as 2011. It also appears that the SEC has granted these requests and allowed them to file amended Forms 13F that include an information table on a delayed basis.- Smauld
What Does it Mean?
Implications of their attempt to redact their holdings are minimal as they have been trying since 2011. It probably means nothing in therms of their next portfolio move. It does mean that Central Banks are not transparent despite what they would have us believe. But, Norway does hold a special place in my heart, so we can give them a pass no?
Related Reading
- Soren K.
Read more by Soren K.Group