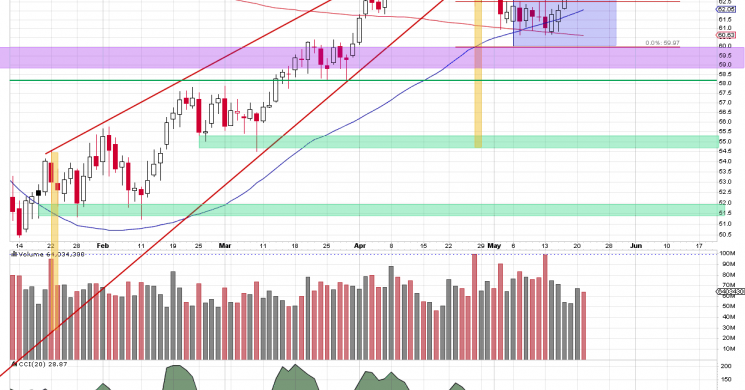 Crude oil hasn't closed higher yesterday and the previous series of rallies appears to face stiff headwinds. Is this it, or can the oil bulls pull a rabbit out of their hats? After all, they've reversed Monday's downswing already. Or does the prospect of wide spectrum U.S. - China uncertainties have the upper hand? It's making itself heard across the board and crude oil is no exception. Let's assess the technical picture now.
We'll take a closer look at the chart below (chart courtesy of http://stockcharts.com).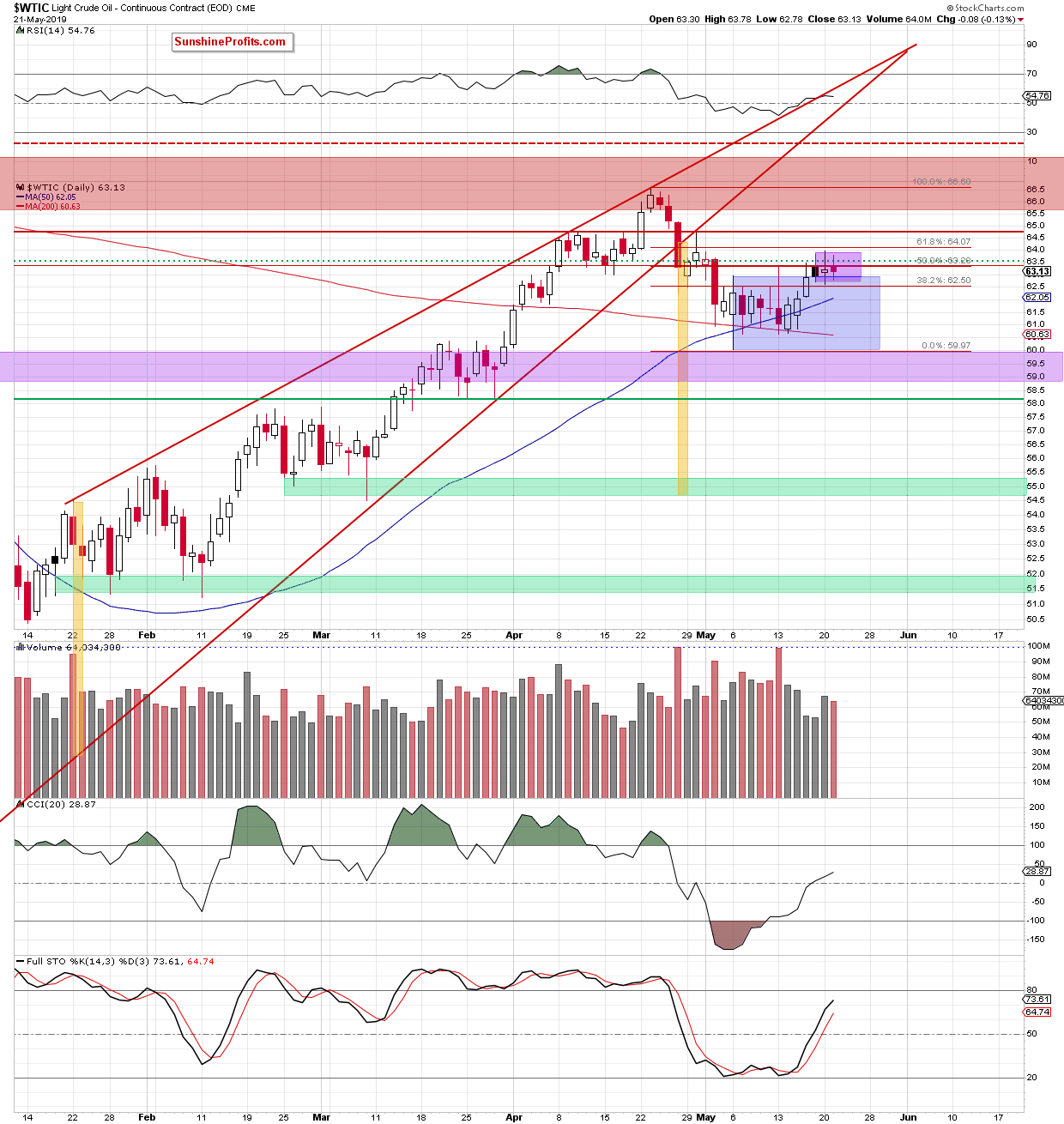 Yesterday's crude oil trading was almost a mirror image of the Monday's session. While the bulls eked out minor gains on Monday, it was the bears who was stronger yesterday. The price closed down below the 50% Fibonacci retracement yet again. This has been the fourth unsuccessful attempt to overcome it in a row.
As we have pointed to in our yesterday Alert's title ("The Shifting Sands in the Oil Arena"), this suggests a bearish reversal of fortunes ahead. Indeed, at the moment of writing these words, black gold changes hands at around $62.20 which is back inside the blue consolidation.
Should the commodity keep moving lower from current levels, we're likely to see at least a test of the lower border of the blue consolidation. Such a move lower is supported by the unconvincingly low volume of the preceding upswing days.
The full version of the above analysis includes a helpful summary of the market outlook and our open position. If you enjoyed the above analysis and would like to receive daily premium follow-ups, we encourage you to sign up for our Oil Trading Alerts also benefit from the trading action we describe. We encourage you to sign up for our daily newsletter, too - it's free and if you don't like it, you can unsubscribe with just 2 clicks. If you sign up today, you'll also get 7 days of free access to our premium daily Gold & Silver Trading Alerts. Sign up for the free newsletter today!
Thank you.
Nadia Simmons Forex & Oil Trading Strategist Sunshine Profits - Tools for Effective Gold & Silver Investments
Read more by MarketSlant Editor