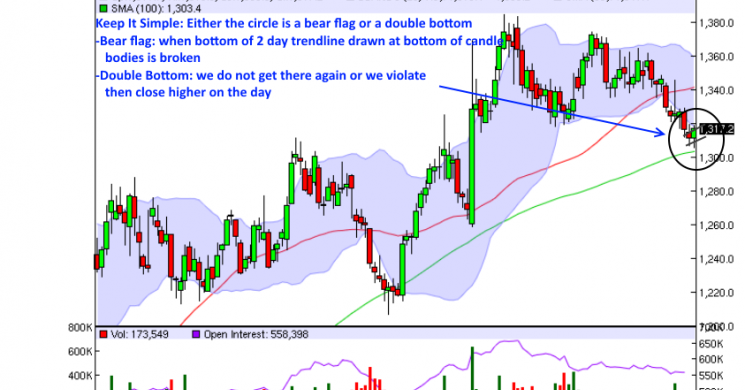 Technical Brief: Gold Holding $1290 gets you $1349
Today we give you the short term technicals:BEARISH; and the long term technicals: BULLISH. But not the way MSM likes to sell you when their recommendation goes wrong.
You know the way:
"Looks like we are in this for the long haul"- thanks jerk

"We aren't worried about the noise, we are investors"- then loan me mortgage money against my Gold position liar
We are here to give you solid numbers that help put a fine point between long and short term TRADING.
 Price Begets Price: Bearflag or double bottom.
We think there will be some chopped up traders between $1290 and $1325-SK
-interactive chart HERE
Short term
We have a decent chance of going to $1290-SK
momo funds are selling weakness
Tech Bears are sellingrallies below Moving Averages
Fed fears of a hike are making weak longs puke
Seasonal high could be in
DEC GOLD Resist: 132130, 133110*, 1342* ST Trend: Down(131140) Supprt: 1308, 1300+/-, 1290 Obj: 129290 TRP: 1342.00Comment: The market remains in a downturn and retains a chance to wash below 1300-. Correctivecongestion should stay under 133110* to maintain aggressive bear forces. A close over 133110* signals forstronger rebounds, but a close over 1342* is the key for a reversing turnaround. A close under 1308 willencourage follow through selloffs and reinforce ideas for a break below 1300-.
Long Term
Nothing is saying the bull run is over as long as we do not stay below $1275 for any extended period of time-sk
A wave count system we use says we are just finishing a 1 up- but we really aren't good at that stuff
Nothing has changed globally, and we think a QE is the prize we get for a Fed hike
The market may have made its highs for 2016. so what. Basing here is a nice place to be if we do
GOLD: The Gold is showing a bull trend posture with potential for a drive to 1410-1420. The pullback frommid-July and through August is likely a short term correction to the aggressive rallies of June and weshould still suspect flagging consolidation into early September as trade builds for another bull wave. Beprepared for retracements to check for support at 1290. However, only a close under 126720 damages thelong term bull trend posture. A swing low off 1290+/- will reinforce the long term structure of Gold. A closeover 134930 gives bull signals for a secondary bull wave to challenge the 137750 high for an upsidebreakout.
Read more by Soren K.Group