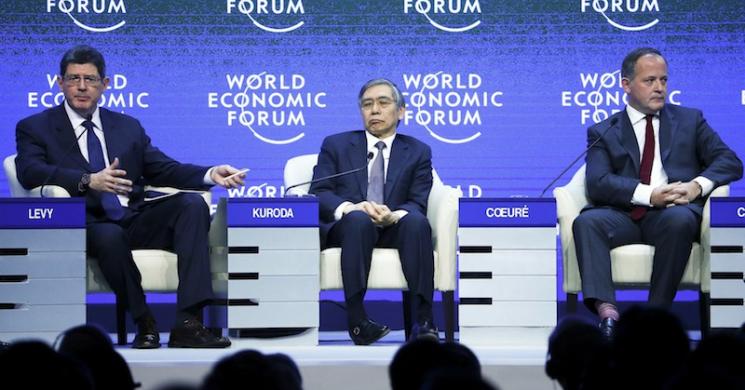 Friday's Fed's Symposium in the nutshell:
Yellen: Likelihood of rate raise has increased- markets do not believe her as Stocks and Gold rally
Fischer: "She means it"- market takes this seriously- Stocks and Gold give up gains
Clinton Supporter Barney Frank recommends Yellen do nothing until after the election-  After markets closed, but team Clinton stepping up now
War on Cash accelerates - presentation recommending the abolishment of cash given
Saturday's Main Event
-full Jackson Hole schedule here
Likely market movers during the Saturday session in Jackson Hole were BOJ Kuroda and ECB  Director Coeure.
Saturday 12:25 p.m. - Overview panel: Bank of Mexico Governor Agustin Carstens, ECB Executive Board Member Benoit Coeure, Bank of Japan Governor Haruhiko Kuroda.
Comment: Both Kuroda and Coeure suggested that the lower bound will be violated again.  Coeure made it plain that unless the fiscal side helps, rates can't go up. For us it appears that Kuroda is ready willing and able to get more QE. Couere is telegraphing that if the fiscal side hasn't yet "Come to Daddy" like it has in Japan.- sk
Kuroda Synopsis: a mix of things heard before and a declaration that NIRP is here to stay as a tool.
"There is no doubt that there is ample space for additional easing in each of the three dimensions"- restatement of obvious
"The bank will carefully consider how to make the best use of the policy scheme in order to achieve the price stability target"- nothing new to us
"The zero lower bound is no longer insurmountable in practice"- yikes, that sounds to us like it is a new normal in Fed policy
"It is natural to assume another lower bound exists"-  Can't know how far a stick will bend unless you actually break it we guess?
Coeure Synopsis: We're not doing enough
"They (stimulus measures) were taken on the implicit assumption that they would be transient"- But Kuroda just said..
"But if other economic policies do not in fact play this role, then we cannot exclude that the real equilibrium rate remains low."- ok, so you and Kuroda are in agreement
"As such, we may see short-term rates being pushed to the effective lower bound more frequently in the event of macroeconomic shocks"- so NIRP as a tool is here to stay
For more:
REUTERS: ECB rates could stay low if other policy areas don't contribute: Coeure
BBG:BOJ's Kuroda Says Ready to Ease as Jackson Hole Debates Options
Read more by Soren K.Group