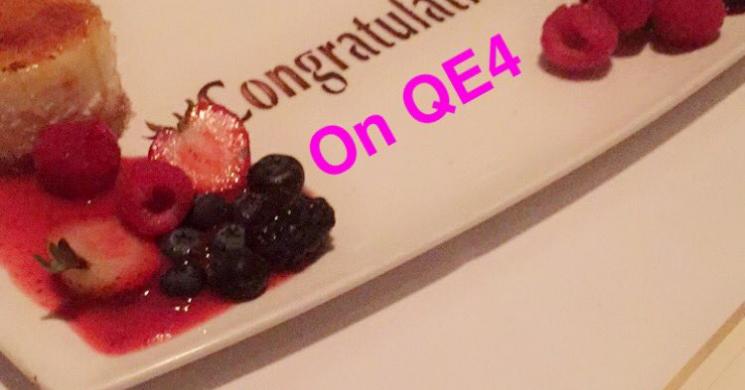 Summary
Markets yesterday took a header on the Consumer Confidence report, but stocks recovered. Traders took it as another brick in the Fed's wall to justify a rate raise in September. It sent money rotating out of Stocks and Oil, and into cash domestically. Meanwhile it served to further strengthen the USD globally. The growing perception that a Fed hike was possible sent stocks lower initially and did not help Oil which was already suffering from supply overhangs. It did not bode well for Dollar priced Precious Metals and anything else priced in dollars. So why the Equity rally afterwards?- SK
Focus: Stocks bounced and Gold did not. Why?
So why did Stocks recover and Gold not if we are looking at a more likely rate hike? Because stocks took their final cue from the increased chance that the JGB will be pushing the pedal to the metal on stimulus. This will levitate global stock markets. Gold chose to focus on the Fed rate hike, while stocks are focusing on the QE to come. Note the first story in the Global News section. Data watchers will take note of ADP's employment change at 8:15 for clues to the Aug Jobs number due Sep 2. Chicago PMI for Aug, and pending home sales will also get some attention, Crude inventories are due out at 10:30. - VBL
Insert Your Favourite Pink Floyd Wall Lyric Here!
h/t @RampCapitalLLC for pic. Follow for stock market comments and the 3:30 ramp
Global News
Market News
Our Markets
PRICECHANGE% CHG 
GC=F
1,316.80+0.30+0.02% 
SI=F
18.80+0.12+0.65% 
PL=F
1,064.00+7.40+0.70% 
HG=F
2.08+0.01+0.26% 
NG=F
2.83+0.00+0.07% 
CL=F
46.02-0.33-0.71% 
GLD
125.03-1.27-1.01% 
USO
10.73-0.12-1.11% 
On MarketSlant
Global Markets
Shanghai
3,085.49+10.81 (0.35%)
Nikkei 225
16,887.40+162.04 (0.97%)
Hang Seng Index
22,976.88-39.23 (-0.17%)
TSEC
9,068.85-41.71 (-0.46%)
FTSE 100
6,811.10-9.69 (-0.14%)
EURO STOXX 50
3,045.56+14.81 (0.49%)
CAC 40
4,482.70+25.21 (0.57%)
Currencies
EUR/USD
1.1139-0.0009 (-0.08%)
USD/JPY
103.2680+0.3795 (0.37%)
GBP/USD
1.3134+0.0044 (0.33%)
USD/CAD
1.3104+0.0014 (0.11%)
USD/HKD
7.7569-0.0005 (-0.01%)
USD/CNY
6.6808-0.0106 (-0.16%)
AUD/USD
0.7514-0.0008 (-0.11%)
Economic Calendar
DateTime (ET)StatisticForActualBriefing ForecastMarket ExpectsPriorRevised FromAug 298:30 AM
Personal Income
Jul0.4%0.4%0.4%0.3%0.2%Aug 298:30 AMPersonal SpendingJul0.3%0.2%0.3%0.5%0.4%Aug 298:30 AMCore
PCE
PricesJul0.1%0.1%0.1%0.1%--Aug 309:00 AMCase-Shiller 20-city IndexJun5.1%5.3%5.1%5.3%5.2%Aug 3010:00 AM
Consumer Confidence
Aug101.197.597.096.797.3Aug 317:00 AMMBA Mortgage Index08/272.8%NANA-2.1%-Aug 318:15 AMADP Employment ChangeAug-190K170K179K-Aug 319:45 AM
Chicago PMI
Aug-54.054.555.8-Aug 3110:00 AMPending Home SalesJul-0.7%0.7%0.2%-Aug 3110:30 AMCrude Inventories08/27-NANANA-Sep 17:30 AMChallenger Job CutsAug-NANA-57.1%-Sep 18:30 AM
Initial Claims
08/27-267K265K261K-Sep 18:30 AMContinuing Claims08/20-NANA2145K-Sep 18:30 AM
Productivity
-Rev.Q2--0.6%-0.6%-0.5%-Sep 18:30 AMUnit Labor Costs - Rev.Q2-2.5%2.1%2.0%-Sep 110:00 AM
Construction Spending
Jul-1.0%0.6%-0.6%-Sep 110:00 AMISM IndexAug-52.052.252.6-Sep 110:30 AMNatural Gas Inventories08/27-NANA11 bcf-Sep 12:00 PM
Auto Sales
Aug-NANA5.16M-Sep 12:00 PM
Truck Sales
Aug-NANA9.10M-Sep 28:30 AM
Nonfarm Payrolls
Aug-200K180K255K-Sep 28:30 AMNonfarm Private PayrollsAug-190K175K217K-Sep 28:30 AM
Unemployment Rate
Aug-4.9%4.8%4.9%-Sep 28:30 AMAverage
Hourly Earnings
Aug-0.2%0.2%0.3%-Sep 28:30 AM
Hourly Earnings
Aug-NANA0.3%-Sep 28:30 AM
Average Workweek
Aug-34.534.534.5-Sep 28:30 AM
Trade Balance
Jul--$40.0B-$43.0B-$44.5B-Sep 210:00 AM
Factory Orders
Jul-2.2%2.0%-1.5%-
Read more by Soren K.Group