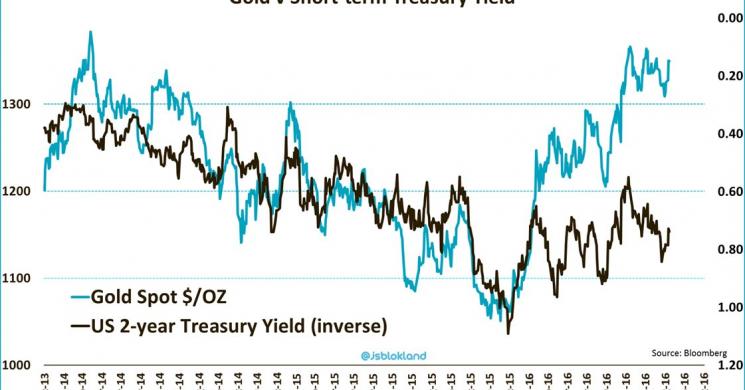 The MSM Want You to Believe Gold is a Deplorable Asset
Summary
 BOJ will likely release its policy recommendations around 1 PM on Wednesday (midnight tonight ET), but that can be as late as post Japan market close Wednesday.The US Fed will announce its own decision tomorrow. Expectations for a rate hike are low among primary banks, in part because of the recent bond market sell-off.  Two major banks dissent and think a rate hike is imminent. It is possible that a BOJ easing statement will be cause of a US tightening, though unlikely. Deutsche Bank now has trouble on multiple fronts, the DOJ in the US, and increased scrutiny for its derivatives portfolio in the EU. Bloomberg notes that it will take an earnings miracle for the S&P 500 to hit earnings projections for next year
Precious Metals- We are Sick of Manufactured Stories
by Vince Lanci of Echobay Partners
BLOOMBERG REPORTS AGAIN TODAY THAT GOLD INVESTORS ARE FLEEING THE METAL AHEAD OF THE FED MEETING.
This is the 3rd time in as many days we've seen a headline recycling a chart showing a reduction in longs of Gold holdings by funds. Here is the graphic used in every story I read in the last 3 days
Don't Fight the Press
Phrases like "Don't fight the Fed" are used to justify the fear of a rate hike. Yet we do not see the possibility raised that Gold holdings are suffering as a result of Commodity fund's getting hurt in Oil and thus prudently cutting commodity exposure across the board reduction.
Where is the Due Diligence?
Worse  are the "Dump Gold" articles' contradictions that the Fed will likely not raise rates. The financial press should be looking at Gold in comparison to other Fed watching indicators, like the 10YR bond, or the Fed Market Watch tool, or Bloomberg's own surveys. Instead it is  (someone's) SPECULATION that rates will rise when convenient, even at the risk of contradicting their own data. Why not ask the questions about the divergence instead of dismissing Gold's growing importance?
Do you think if the Fed raises rates, the press will acknowledge Gold may have a better handle on Fed behavior than their own surveys and indicators? No, because they can't monetize that.
That is bad business as well. Gold is no longer an outside market, and it should be looked at from multiple views when seeking price determiners. They are alienating at least 25% of the country- 50% of Trump Voters according to Hillary's Deplorable statement.
This is a sample of today's FALSE CORRELATIONS
TODAY: "Funds Dump Gold at Fastest Pace Since May as Fed View Shifts"- that is simply not true!
Speculation is mounting that Fed officials, in a statement scheduled for release on Sept. 21, will signal that higher U.S. interest rates are on the way. That's bad news for gold, which thrives as an alternative asset.
Same Financial Service Today- "Rates probably not going up"
The Fed is expected to leave rates unchanged this week.
if You Can't Brand Gold, Bully It
Gold is such a tiny market in comparison to other "more reliable" Fed watching markets. Any made up correlation we feel is an attempt to manufacture consent to be bearish and dissuade investment in a product that does not trade on their's or some advertiser's screen.  Sadly we think that the press thinks of Gold investors and Gold-watchers as beneath the IQ average of their readership. Why else would they gloss over potential contradictions andopportunities to learn more about the changing psyche in investors? Are Gold investors the "deplorables" of the financial world? It seems that way to me.
-Vince Lanci
Related Reading
Headlines
WatchList
PRICECHANGE% CHG 
GC=F
1,318.00+0.20+0.02% 
SI=F
19.24-0.05-0.26% 
PL=F
1,030.70+3.70+0.36% 
HG=F
2.150.00-0.19% 
NG=F
3.04+0.04+1.30% 
CL=F
43.36-0.50-1.14% 
GLD
125.32+0.26+0.21% 
USO
9.98-0.02-0.20% 
EUR/USD
1.1171-0.0006 (-0.06%)
USD/JPY
101.7985-0.0455 (-0.04%)
GBP/USD
1.3040-0.0001 (-0.01%)
USD/CAD
1.3208+0.0005 (0.04%)
USD/HKD
7.7571-0.0007 (-0.01%)
USD/CNY
6.6692+0.0014 (0.02%)
AUD/USD
0.7544+0.0009 (0.12%)
Global Markets
Shanghai
3,023.00-3.05 (-0.10%)
Nikkei 225
16,492.15-27.14 (-0.16%)
Hang Seng Index
23,530.86-19.59 (-0.08%)
TSEC
9,161.58+8.70 (0.10%)
FTSE 100
6,852.01+38.46 (0.56%)
EURO STOXX 50
2,979.60+11.29 (0.38%)
CAC 40
4,409.23+15.04 (0.34%)
Economic Calendar
DateTime (ET)StatisticForActualBriefing ForecastMarket ExpectsPriorRevised FromSep 1910:00 AMNAHB Housing Market IndexSep65595960-Sep 208:30 AM
Housing Starts
Aug-1176K1186K1211K-Sep 208:30 AM
Building Permits
Aug-1165K1160K1152K-Sep 217:00 AMMBA Mortgage Index09/17-NANA4.2%-Sep 2110:30 AMCrude Inventories09/17-NANA-0.559M-Sep 212:00 PMFOMC Rate DecisionSep-0.375%0.375%0.375%-Sep 228:30 AM
Initial Claims
09/17-265K262K260K-Sep 228:30 AMContinuing Claims09/10-NANA2143K-Sep 229:00 AMFHFA Housing Price IndexJul-NANA0.2%-Sep 2210:00 AM
Existing Home Sales
Aug-5.44M5.50M5.39M-Sep 2210:30 AMNatural Gas Inventories09/17-NANA62 bcf-
Read more by Soren K.Group