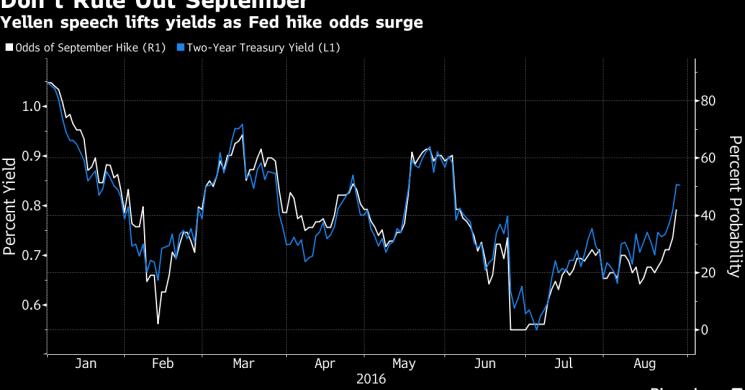 Activity Summary
Last night a suicide bombing rocked a Karbala wedding in Iraq. ISIS was the likely terrorist. EU stocks are softer with Gold on the back of a stronger USD. Markets continue to digest and decipher the Fed's words and meaning from Friday. Goldman Sachs has raised its expectations of a rate hike. Bonds and the Dollar agree. Pimco disagrees and holds a larger than usual bond position likely on QE4 expectations as we've opined recently.
Fischer and Yellen are Bluffing if  August Employment is Really their Guide.
Friday Yellen gave a Hawkish sounding speech that the markets ignored. Fischer came out and backed her words with tougher talk. For us this was bad cop-badder cop; or "We really mean it this time!". The markets didn't read it as a bluff with Gold and Stocks giving back their day's gains. But we are not convinced it wasn't just tough talk based on what Fischer stated was "really important" to their next rate decision, August Jobs. That was the tell for us. Looking at the wide range of reports and missed expectations, how can the Fed reasonably rely on this report at all?
Look at the Survey Average vs the circled Actuals below:
h/t: Driehaus Capital
This is Fischer's report of choice in making the next rate decision? Good luck with that. Given the wide past range on jobs and utter lack of action, what  number would make them act?  An outlier to this crazy dispersion? So we are less sanguine about a rate hike in September than recent headlines would have you believe. We do think a rate hike is coming, ideally for all in December post election. Now if only the Fed can make the markets rally enough to justify their pretense.  For us either Fischer is:
a genius at interpreting the Jobs number patterns
using the Aug Jobs focus  comment is a misdirection
bluffing on the September rate hike
related reading:
Keep drinking the Kool-aid?
Global News
Market News
Prices
PRICECHANGE% CHG 
GC=F
1,324.00-1.90-0.14% 
SI=F
18.66-0.09-0.48% 
PL=F
1,081.00+3.30+0.31% 
HG=F
2.080.000.00% 
NG=F
2.88-0.03-1.17% 
CL=F
46.99-0.65-1.36% 
GLD
126.05-0.18-0.14% 
USO
10.950.000.00%
EUR/USD
1.1177-0.0020 (-0.18%)
USD/JPY
102.2090+0.2890 (0.28%)
GBP/USD
1.3084-0.0042 (-0.32%)
USD/CAD
1.3012-0.0007 (-0.05%)
USD/HKD
7.7564-0.0001 (0.00%)
USD/CNY
6.6856+0.0058 (0.09%)
AUD/USD
0.7553+0.0011 (0.14%)
Economic Calendar
DateTime (ET)StatisticForActualBriefing ForecastMarket ExpectsPriorRevised FromAug 298:30 AM
Personal Income
Jul-0.4%0.4%0.2%-Aug 298:30 AMPersonal SpendingJul-0.2%0.3%0.4%-Aug 298:30 AMCore
PCE
PricesJul-0.1%0.1%0.1%-Aug 309:00 AMCase-Shiller 20-city IndexJun-5.3%5.1%5.2%-Aug 3010:00 AM
Consumer Confidence
Aug-97.597.097.3-Aug 317:00 AMMBA Mortgage Index08/27-NANANA-Aug 318:15 AMADP Employment ChangeAug-190K170K179K-Aug 319:45 AM
Chicago PMI
Aug-54.054.555.8-Aug 3110:00 AMPending Home SalesJul-0.7%0.7%0.2%-Aug 3110:30 AMCrude Inventories08/27-NANANA-Sep 17:30 AMChallenger Job CutsAug-NANA-57.1%-Sep 18:30 AM
Initial Claims
08/27-267K265K261K-Sep 18:30 AMContinuing Claims08/20-NANA2145K-Sep 18:30 AM
Productivity
-Rev.Q2--0.6%-0.6%-0.5%-Sep 18:30 AMUnit Labor Costs - Rev.Q2-2.5%2.1%2.0%-Sep 110:00 AM
Construction Spending
Jul-1.0%0.6%-0.6%-Sep 110:00 AMISM IndexAug-52.052.252.6-Sep 110:30 AMNatural Gas Inventories08/27-NANA11 bcf-Sep 12:00 PM
Auto Sales
Aug-NANA5.16M-Sep 12:00 PM
Truck Sales
Aug-NANA9.10M-Sep 28:30 AM
Nonfarm Payrolls
Aug-200K180K255K-Sep 28:30 AMNonfarm Private PayrollsAug-190K175K217K-Sep 28:30 AM
Unemployment Rate
Aug-4.9%4.8%4.9%-Sep 28:30 AMAverage
Hourly Earnings
Aug-0.2%0.2%0.3%-Sep 28:30 AM
Hourly Earnings
Aug-NANA0.3%-Sep 28:30 AM
Average Workweek
Aug-34.534.534.5-Sep 28:30 AM
Trade Balance
Jul--$40.0B-$43.0B-$44.5B-Sep 210:00 AM
Factory Orders
Jul-2.2%2.0%-1.5%-
Read more by Soren K.Group