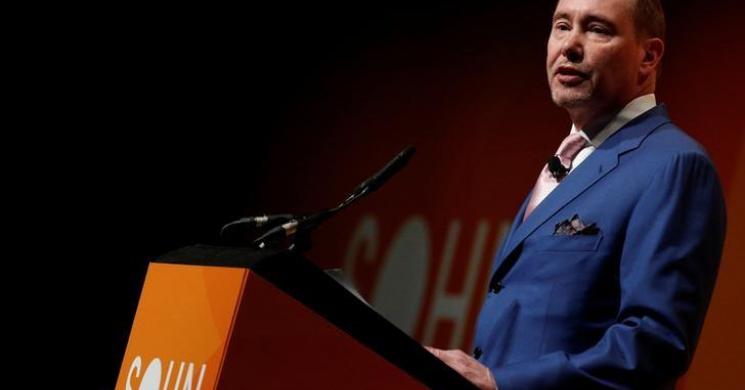 Jeffrey Gundlach, renown and vocal  Bond Bear and Gold Bull says a September hike is not going  to happen. The CEO of Double Line  manages over$100BB from his LA based  Fund.
Gold Over Treasuries
In an interview on July 30th, Gundlach reiterated that gold and gold miners are the best alternative to Treasuries and predicted gold prices will reach $1,400.
"The yield on the 10-year yield may reverse and go lower again but I am not interested. You don't make any money. The risk-reward is horrific," Gundlach said. "There is no upside" in Treasury prices.
Gundlach lambasted Federal Reserve officials yet again for talking up rate hikes for this year while the latest GDP data showed disappointing economic growth. "The Fed is out to lunch. Does the Fed look at what's going on in the economy? It is unbelievable," he said.
WIRP Guides the Fed
He said earlier this month that the Fed needed to prove they were not market watchers. That they were looking at the data. But all the Fed has done is show itself replaceable by an indicator called WIRP. We believe that lacking the right data set  to raise rates, the Fed's hands are tied at least until December. Otherwise, an SPX move north of 2300 is needed to justify a hike.
No September Hike
ReutersThe Federal Reserve will not raise interest rates when it meets this week, but the U.S. central bank will include "hawkish no-hike language," Jeffrey Gundlach, chief executive of DoubleLine Capital, said on Monday.Gundlach told investors that the Fed will not hike in September if the WIRP is below 40 and the S&P 500 is below 2150.

In a telephone interview with Reuters, Gundlach said Fed officials "want to be able to raise rates later this year if the WIRP (World Interest Rate Probability) index is in the 40s," Gundlach said. Currently WIRP, which measures the implied probability of an interest rate hike between 0 and 100, sits around 18 percent for the Fed's meeting on Sept. 21.
Fed In Control but Ineffective?
So if we are to understand Jeff right, the Fed reacts to the WIRP, but wishes to not seem so dependent on one indicator. And that they can't force a rate hike on the markets given the SPX under 2150 and the WIRP at 18%.
So why do we have a  subjective Fed when a more objective indicator like WIRP or ( wait for it) A Gold standard would regulate money growth nicely?
BOJ, FRB Meeting Times Might Make a MessFed Crazy to Hike Unless BOJ does a QE First - AnalysisTechnical Brief: Gold, Silver, and the Fed Effect 
-Soren k
Read more by Soren K.Group