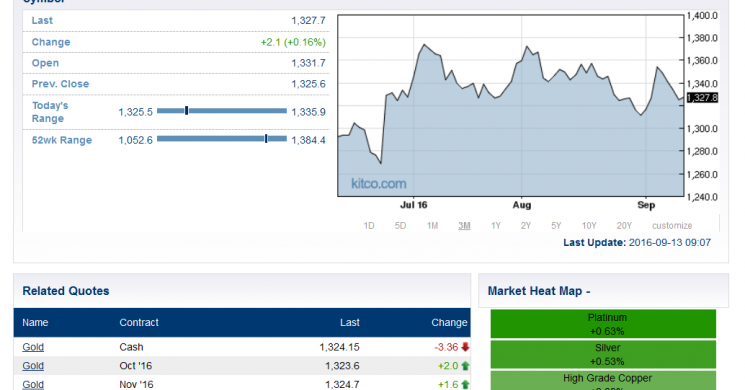 Summary
Brainard Props Stocks
IEA Kicks Oil when it's up
The Gold Trade is still there
In Focus- Goldman weighs in on Stocks
Stocks- Yesterday, Lael Brainard, called for prudence in accommodation removal. She also cited China's failure to succeed in transforming itself into a consumer economy as reason to not raise rates. Stocks took this as cue that a rate raise was not happening. But more importantly, it deferred the reality that the Fed cannot do anything either way except talk. Wall street which had released uber bearish stats on Friday after the sell off happily used the punch bowl money to buy shares. The S&P closed up  30 handles. But today, the Dow is called ot open 130 lower and the SPX is trading down 15 handles. The Fed's effectiveness in jawboning is diminishing or markets are now focusing on the inevitability of a December hike.
Gold is a buy on a trade we outlined yesterday.
Agnostically: Long Above $1333 ($1380 target)and short below $1325 ($1290 target)
Oil- Lost all of yesterday's gains as an IEA report stated that the current surplus would last far into 2017, exceeding current expectations. We would start looking at how the term structure of Oil reacts more than the spot price. Unhedged production will show its hand there after the selloff.
WatchList
PRICECHANGE% CHG 
GC=F
1,329.70+4.10+0.31% 
SI=F
19.17+0.17+0.92% 
PL=F
1,061.90+15.50+1.48% 
HG=F
2.11+0.01+0.38% 
NG=F
2.99+0.00+0.03% 
CL=F
45.81-1.03-2.20% 
GLD
126.59-0.16-0.13% 
USO
10.64+0.05+0.47% 
Global Market News
GOLDMAN TEAM SAID TO USE RETAIL DEPOSITS FOR INVESTMENTS: RTRS
PIMCO REDUCES ITS BOND BET: BBG- so it is Gundlach 1, PIMCO 0
Record new U.S. military aid deal for Israel to be signed in days: RTRS
In Focus
Goldman's 5 Reasons Why the Market is Doomed- from Friday
Quite possibly subtitled- "Keep Rates Low and Nobody Gets Hurt"
1- Our Sentiment Indicator shows an extreme bullish reading of 95, which suggests the S&P 500 index will fall by 2% during the next month
 2- We anticipate a rise in political uncertainty, which will translate into a lower P/E multiple.
3-  Recent US economic data has been disappointing
4- The weak macro data means downside risk to EPS forecasts.
5- Equity valuation remains extended. The S&P 500 index trades at the 84th percentile of historical valuation while the median stock is at the 98th
Today, they don't look so right. But we bet their wallets are fatter.
Global Equities
Shanghai
3,023.51+1.53 (0.05%)
Nikkei 225
16,729.04+56.12 (0.34%)
Hang Seng Index
23,215.76-74.84 (-0.32%)
TSEC
8,940.83-6.23 (-0.07%)
FTSE 100
6,711.46+10.56 (0.16%)
EURO STOXX 50
3,014.72+1.84 (0.06%)
CAC 40
4,443.60+3.80 (0.09%
Currencies
EUR/USD
1.1248+0.0008 (0.07%)
USD/JPY
102.2695+0.5245 (0.52%)
GBP/USD
1.3252-0.0084 (-0.63%)
USD/CAD
1.3120+0.0088 (0.68%)
USD/HKD
7.7583+0.0006 (0.01%)
USD/CNY
6.6810+0.0017 (0.03%)
AUD/USD
0.7527-0.0039 (-0.51%)
Economic Calendar
DateTime (ET)StatisticForActualBriefing ForecastMarket ExpectsPriorRevised FromSep 132:00 PM
Treasury Budget
Aug-NANA-$64.4B-Sep 147:00 AMMBA Mortgage Index09/10-NANA0.9%-Sep 148:30 AM
Export Prices
ex-ag.Aug-NANA0.3%-Sep 148:30 AM
Import Prices
ex-oilAug-NANA0.3%-Sep 1410:30 AMCrude Inventories09/10-NANA-14.513M-Sep 158:30 AM
Initial Claims
09/10-262K263K259K-Sep 158:30 AMContinuing Claims09/03-NANA2144K-Sep 158:30 AM
Retail Sales
Aug--0.1%-0.1%0.0%-Sep 158:30 AM
Retail Sales
ex-autoAug-0.3%0.3%-0.3%-Sep 158:30 AM
PPI
Aug-0.1%0.1%-0.4%-Sep 158:30 AMCore
PPI
Aug-0.1%0.1%-0.3%-Sep 158:30 AMPhiladelphia FedSep-1.50.02.0-Sep 158:30 AMCurrent Account BalanceQ2--$123.1B-$122.8B-$124.7B-Sep 158:30 AMEmpire ManufacturingSep--1.00.0-4.2-Sep 159:15 AM
Industrial Production
Aug--0.2%-0.3%0.7%-Sep 159:15 AM
Capacity Utilization
Aug-75.6%75.7%75.9%-Sep 1510:00 AM
Business Inventories
Jul-0.1%0.1%0.2%-Sep 1510:30 AMNatural Gas Inventories09/10-NANA36 bcf-Sep 168:30 AM
CPI
Aug-0.1%0.1%0.0%-Sep 168:30 AMCore
CPI
Aug-0.2%0.2%0.1%-Sep 1610:00 AMMich SentimentSep-91.091.589.8- 
Good Luck
Read more by Soren K.Group