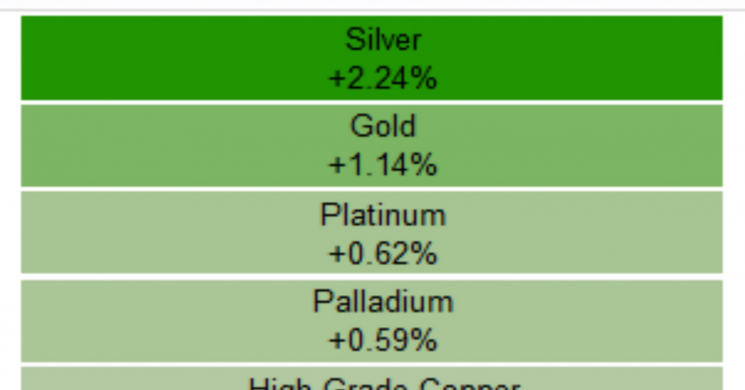 Gold Opens higher
UPDATE: 9:51 Gold and Silver are back on their highs of the evening
As the trading day started in the Far East the whole Precious Metals complex was on fire. Silver lead the way in percentage terms up 2.3% with Gold a solid 1.1% higher before giving those gains back. This was a pleasant surprise considering the way the week ended. We were wary of the complex given the volatile trading coming out of Friday's unemployment numbers and the CME increase in Silver margins. and then the Nikkei stole the spotlight- Soren K.
-Click here for interactive chart
Looking For Reasons
Looking at outside markets for possible drivers we see none yet. This is also a plus. It means Gold and Silver are moving on their own, not as a result of USD moves etc. Our initial reaction is to say this is purely on the back of Chinese demand. The Nikkei is likely reacting to the US Jobs number as well as its own poor machine orders. This makes a rate raise by the US Fed less likely than before. The US jobs number came in strong. But the market is saying not strong enough to warrant a hike any time soon. Evening technical Report here
Nikkei Steals the Spotlight
Global Equities are little changed this evening with Japan the notable exception. The Nikkei is strong on the back of poor  domestic economic numbers and likely reacting to the US Jobs report on Friday. Translation: the Nikkei is up over 2% on a market perception of continued global easy money. 
FX Markets
The fiat currency markets are mixed and we see a little bit of strength in the US 10 year Bond. Oil is weaker. There is no finger at which to point. We like that. Gold and Silver are rallied this evening because of Gold and Silver demand. Not as a proxy of something else. 
Econ Numbers and Events
Japanese elections signal a continuation of easy money and Japanese machine orders fell by 1.4%. Expectations were for a positive 3.0%
So why the rally? Really?  Chinese demand at the investment level is consistent and like we said before HERE, this is a sign of China rising as a player beyond the Government buying. This is stoked likely from the fear of more devaluation by the PBOC as well as the news out of Japan.
Gold Silver Ratio
We will be watching markets closely tonight but until a clear driver shows its head the answer to why is because people want Precious Metals. Of note, the Gold Silver Spread is staying under 70 hovering in the 66 to 1 area. It appears the steep rally we had for some time is over.
We will be putting together a quick Technical report  and a market update within the hour. Check back. EDIT Here it is.  How we open i nthe US will be more important than the open in Asia we believe.
Be Careful
Read more by Soren K.Group