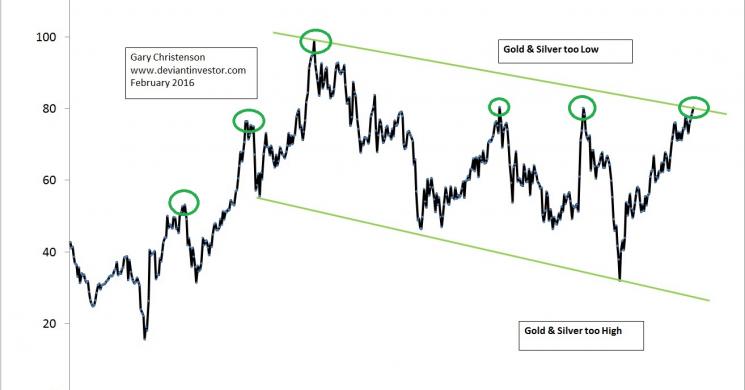 Summary
Wall Street firms warn of disaster if the Fed hikes, (see Headlines below). They are piling on, citing fundamentals when all they want is another injection of Fed opiates. The DOJ goes after Deutsche Bank and DB responds "Nuts" to them so far. Stocks hover well above the 200DMA. Aramco is increasingly likely to use its own nuclear option in dealing with the other OPEC members. CPI is due out. Trump speaks today at 10AM (Yuuuge?) which we hope to cover live here.
 On Deck Today: Gold-Silver Analysis, Gold Technicals, Trump's Speech, and Scary Global  Balance Sheets
Gold-Silver Spread Contract
CME announced a Gold/Silver futures contract, which we will go into a later today in detail. To be analyzed:
Institutional demand
Pentup retail demand
Contract specs
Major players
This is in response to  big player demand, much like the Brent-WTI spread contract was. And it must be understood before it is traded. It will affect the actual value of the spread, just by virtue of it being its own product now. And how it relates to our own experience in dealing with contracts dominated by a few large players as this will no doubt be. We are VERY excited about this for many reasons as traders and market sleuths who like to sniff out "gaming" risk potenial by players.
Headlines
CPI 0.2%, Exp. 0.1% CPI ex food/energy 0.3%, Exp. 0.2%
S&P 500, STOXX 600 CUT TO UNDERWEIGHT:GS- the sky is falling
DOJ ASKS DEUTSCHEBANK TO PAY $14BB IN MTGE PROBE:WSJ- revenge for Apple tax?
MAJOR BANKS CALLING FOR A MARKET SELLOFF, JPM,GS,DB ETC- sky , falling, is..
WELLS FARGO CUT TO UNDERWEIGHT AT ATLANTIC EQUITIES- berkshire, not so much?
MONTE PASCHI HALTED, LIMIT DOWN AFTER FALLING 7.3% IN MILAN:ZH- get the choppa ready
ECB JAZBEC SAYS POLICY WORKING, NO NEED TO CHANGE IT NOW: RTRS- see above, choppers ready?
Saudi Arabia might play hardball with OPEC:BI-We stated oil was likely to test $40 on Sept 1.
WatchList
PRICECHANGE% CHG 
GC=F
1,315.50-2.50-0.19% 
SI=F
18.96-0.08-0.43% 
PL=F
1,025.00-12.00-1.16% 
HG=F
2.15-0.01-0.32% 
NG=F
2.96-0.04-1.23% 
CL=F
43.84-0.68-1.53% 
GLD
125.37-0.81-0.64% 
USO
10.14+0.05+0.50% 
Markets
h/t finviz.com
In Focus Today-Fed Land
We have thought and continue to stick to our guns that the BOJ will start the next wave of QE for now. It also seems that many markets have been softer in anticipation of a US Fed hike, Japan included.
Next week we have a rare but not unprecedented BOJ/FRB  same week announcements. If the BOJ is going to do as we predict, Tuesday evening would be a great time
The BOJ will decide on rates next Tuesday.
The FRB will decide on Wednesday
Therefore tactically, it is possible that the BOJ announces its move prior to the US Fed meeting. In the past, the BOJ held off announcing its decisions until after the US Fed has made its statement. In human terms: BOJ meets, US Fed meets, US Fed announces, BOJ announces. But a BOJ QE announcement would solve both central Banks' problems if done ASAP pre FRB statement. And satisfy our thesis that teh FEd raises on a SPX price spike lacking "data reasons"
A BOJ QE announcement would cause global markets to rally.
This would in turn give the Fed the opening it needs to raise rates, citing outside reasons.
Bonus- Obama gets to say Trump is wrong about Political influence on the Fed
And the Fed needs to raise rates at some point, if only to reload its gun and unleash the Qe of all QEs. We just think that will be post election unless some event gives them the pretense for which they have been looking sine last month (Fischer, Aug jobs, etc). In price terms:
SPX over 2300= rate hike.
SPX under 2100= nothing
SPX in between 2100- 2300= indecision
SPX under 2100 in a crisis= intervention, PPT or QE
So while we think the BOJ wll lead in the next round of stimulus, we are not married to that order. What we are married to (barring a selloff it cannot just bully back up) is the Fed must raise rates prior to its own QE announcement. And it would be much easier to do that after some exogenous event causes  US stocks to rally. Especially since they cannot get domestic data to corroborate their wishes. otherwise they must cause their own crisis in the form of raising rates adn 100 SPX points later announcing a QE4 plan
Economic Calendar
DateTime (ET)StatisticForActualBriefing ForecastMarket ExpectsPriorRevised FromSep 132:00 PM
Treasury Budget
Aug-$107.1BNANA-$64.4B-Sep 147:00 AMMBA Mortgage Index09/104.2%NANA0.9%-Sep 148:30 AM
Export Prices
ex-ag.Aug-0.4%NANA0.2%0.3%Sep 148:30 AM
Import Prices
ex-oilAug0.0%NANA0.3%--Sep 1410:30 AMCrude Inventories09/10-0.559MNANA-14.513M-Sep 158:30 AM
Initial Claims
09/10260K262K263K259K--Sep 158:30 AMContinuing Claims09/032143KNANA2142K2144KSep 158:30 AM
Retail Sales
Aug-0.3%-0.1%-0.1%0.1%0.0%Sep 158:30 AM
Retail Sales
ex-autoAug-0.1%0.3%0.3%-0.4%-0.3%Sep 158:30 AM
PPI
Aug0.0%0.1%0.1%-0.4%--Sep 158:30 AMCore
PPI
Aug0.1%0.1%0.1%-0.3%--Sep 158:30 AMPhiladelphia FedSep12.81.50.02.0--Sep 158:30 AMCurrent Account BalanceQ2-$119.9B-$123.1B-$122.8B-$131.8B-$124.7BSep 158:30 AMEmpire ManufacturingSep-2.0-1.00.0-4.2--Sep 159:15 AM
Industrial Production
Aug-0.4%-0.2%-0.3%0.6%0.7%Sep 159:15 AM
Capacity Utilization
Aug75.5%75.6%75.7%75.9%--Sep 1510:00 AM
Business Inventories
Jul0.0%0.1%0.1%0.2%--Sep 1510:30 AMNatural Gas Inventories09/1062 bcfNANA36 bcf-Sep 168:30 AM
CPI
Aug-0.1%0.1%0.0%-Sep 168:30 AMCore
CPI
Aug-0.2%0.2%0.1%-Sep 1610:00 AMMich SentimentSep-91.091.589.8-Sep 164:00 PMNet Long-Term TIC FlowsJul-NANA-$3.6B-
Read more by Soren K.Group