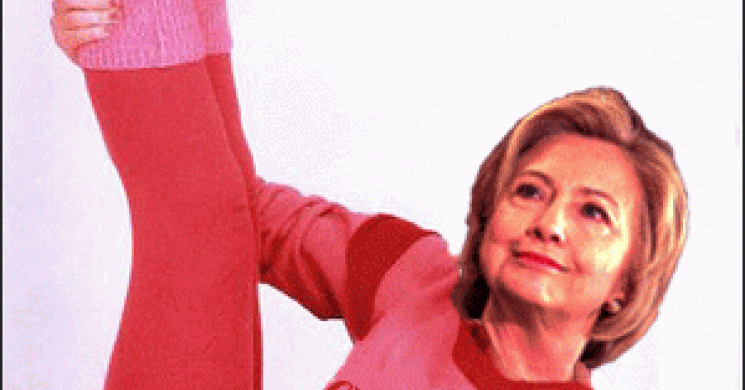 After years of claiming that the Clinton Foundation poses no ethical conflicts for Bill and Hillary or the U.S. government, Bill Clinton now admits the truth—sort of.
The Man behind the Woman.. The  "Charitable" Foundation behind them both
If his wife becomes President, he says the Super PAC masquerading as a charity won't accept foreign or corporate contributions. Bill will also resign from the foundation board, and Chelsea will stop raising money for it.
Now they tell us.
If such fund-raising poses a problem when she's President, why didn't it when she was Secretary of State or while she is running for President? The answer is that it did and does, and they know it, but the foundation was too important to their political futures to give it up until the dynastic couple were headed back to the Oval Office. Now that Hillary is running ahead of Donald Trump, Bill can graciously accept new restrictions on their pay-to-play politics.
Bill must be having a good laugh over this one. The foundation served for years as a conduit for corporate and foreign cash to burnish the Clinton image, pay for their travel expenses for speeches and foreign trips, and employ their coterie in between campaigns or government gigs. Donors could give as much as they wanted because the foundation is a "charity."
President Obama may have banished Sidney Blumenthal from the State Department, but Bill could stash his conspiratorial pal at the foundation, keeping him on the family payroll while Sid flooded Hillary with foreign-policy advice. Her private email server was supposed to hide their email traffic—until that gambit was exposed last year. But FBI Director James Comey let Hillary off the hook on the emails, and he declined to investigate the foundation, so it looks like they're home free.
By now the corporate and foreign cash has already been delivered, in anticipation that Hillary Clinton could become the next President. So now it's the better part of political prudence to claim the ethical high ground.
If you choose to believe or have a short memory. Readers may recall that the foundation promised the White House when Mrs. Clinton became Secretary of State that the foundation would restrict foreign donations and get approval from the State Department.
It turned out the foundation violated that pledge, specifically when accepting $500,000 from Algeria. The foundation also agreed to disclose donor names but failed to do so for more than 1,000 foreign donors until the failure was exposed by press reports.
You also have to suspend disbelief that the foundation won't live on as a Clinton political vehicle. Even if Bill and Chelsea take eight years off, the Clinton entourage appears to be taking no such vow. That would let friends and retainers continue to solicit donors and keep the joint running until the First Couple can return in 2025.
As an ethical matter, is a donation solicited by long-time Clinton body woman Cheryl Mills different than one solicited by Bill? Even in a smaller, more restricted form under these new donation limits, the foundation will continue to operate as a campaign-in-waiting for a future Senator Chelsea Clinton.
If the Clintons were serious about their new ethical virtue, they wouldn't merely limit donations. They'd shut the foundation down. The inherent conflict of interest in keeping it running has even some Democrats, such as former Pennsylvania Governor Ed Rendell, calling for exactly that. Mr. Rendell is old enough to recall the 1990s and that if there's an ethical temptation anywhere, the Clintons will find it and compromise Hillary's Presidency.
Far from offering some new clean ethical slate, this latest foundation gambit ought to be a warning about a third Clinton term. Protected by Democrats and a press corps desperate to beat Donald Trump, the Clintons really do think they can get away with anything.
Related reading
Clinton Foundation Gets Ethics: after the fact
Video: Dilbert Votes Trump (again)
Read more by Soren K.Group