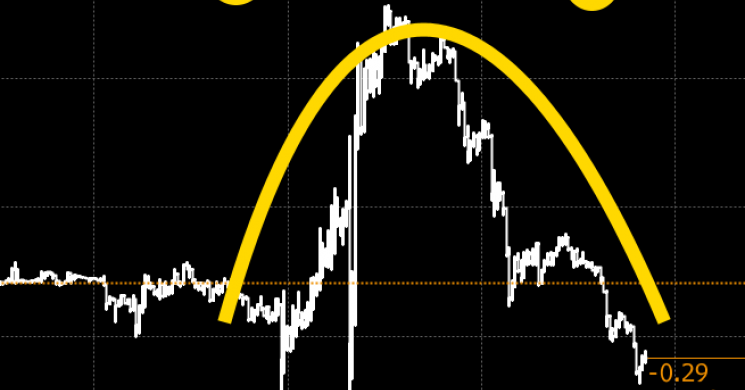 BOJ Central Bank: In Control and Ineffective
"When will Government learn that their intervention only helps in the direction of the trend? That Government by nature is designed to be trend following to facilitate market forces and not to hinder them.

When will they figure out that the market is bigger than them and will have its way now or later?"
The 5 Stages of Death as displayed by the BOJ Last night
Denial
KURODA: BOJ ISN'T REACHING ITS LIMITS FOR BOND BUYS AT ALL- did he really say 'at all"?
BOJ KURODA: WATCHING RISKS, MAKING NECESSARY POLICY ADJUSTMENTS
Market Acceptance
PIMCO'S MASANAO SAYS `BOJ'S POLICY EXHAUSTION IS INCREASINGLY CLEAR'
Bargaining
Kuroda announces CPI-ex food target of 2% within 2 yrs. Currently <2%. Replaced today target of >2% in the undefined future
"The BOJ has effectively told markets it has a Royal Flush…"- Aberdeen Asset Mgt.
Market Acceptance
"… and the markets are questioning Kuroda's poker face" - Aberdeen Asset Management
Anger
ABE SAYS HE WILL KEEP ON FIGHTING TO BOOST JAPAN'S ECONOMY.
Market Acceptance
"CBs are done overall, that's gonna be a painful reality for the coming months...the limits are hit"
Sadness
Probably on full display in the Abe and Kuroda households tonight
Market Acceptance
Acceptance?
Central Bank's Policy Cupboard is Bare
In control, but not effective
BOJ announcement today was a tacit admission of their inability to do what they claim they can.
Central Banking's Ineffectiveness
h/t to  Anil @anilvohra69 as contributing much of the following. Recommend Following
BOJ Mon Pol Action is a complete farce:
2013: (QE) Kuroda states CPI target of 2% within 2 years- hard science!
2016:  (QE) CPI still under 2%- fail
Tuesday: target of 2% replaced by target of greater than 2% at some point in the future (undefined). - not science!
Tuesday: Targets JGB 10 yr at 0%- by moving short term rates and not unwinding its own long bonds?

currently the yield is negative
moving short term rates cannot stop 10 yr mkt forces
How then can BOj target JGB if not intending to be in market?
Only way JGB can promise a 0% 10yr is by being in bond market selling when have to- maybe new issues?
Otherwise all they can do is buy bonds.
This serves as a cap and not a target.
Comment
Cynically speaking, the BOJ stopped buying bonds because they already own 40% of the float. So sterilization of money printing is less of an option than they'd like. That is just as well, it wasn't working. Now they are hoping that the velocity of money will pick up by steepening the yield curve? All they did was bail out their banks. And in the not too distant future the BOJ likely will lower the short end again.
We assume that all Central Bank action is now coordinated. We also feel that Japan is the red herring for this new (old) policy. So, what will the Fed do today? Jeff Gundlach predicted the BOJ would do nothing and the FRB would do nothing as well. So far he is right.
Inflation is coming. The unsterilized, in your face kind. Because CBers cannot afford to have stagflation. If they are going to get the global economy moving and inflation is a consequence, then so be it. They have too much vested from their ivory towers to admit they are wrong
Read more by Soren K.Group