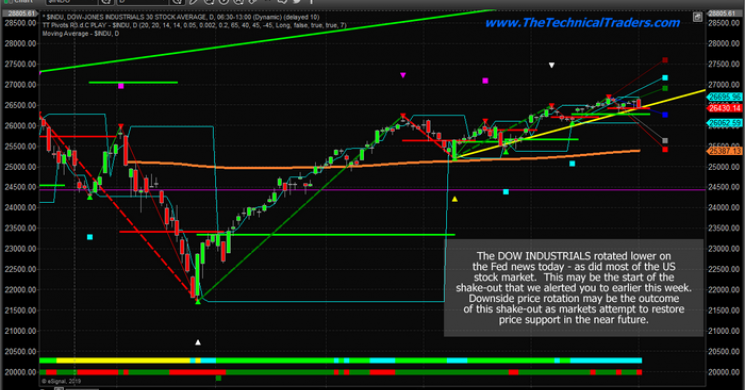 The US Federal Reserve announced today they are leaving rates unchanged based on their latest meeting.  The markets should take this as a sign of relief.  Yet, hear all-time highs and expecting the Fed may actually decrease rates a bit, the market reacted with quiet price rotation near these highs.
The US Fed could have shaken up the markets even more, but we believe this move by the Fed will be interpreted as "Fed Uneasiness" with regards to the overall US and global economy at the moment.  A failure to prompt a rate increase could be seen as weakness by the Fed and uneasiness over the fragility of the US and Global economies.  Once this shake-out settles, the markets will go back to doing what the markets always do – interpreting future fair values.
The $INDU rotated much lower today, ending the day almost exactly at a key support channel level (the YELLOW line).  Further price weakness could push the $INDU below $26,000 fairly easily if the current high price level is fragile and weak.  Price rotation is one of the most basic aspects of all price activity.  The price must rotate in order to establish new price highs or lows.  As volatility decreased over the past 30+ days, it would not be unexpected to see price retest the $26,000 level, or lower, in an attempt to resume a price trend or re-establish price support before attempting another move higher.
The move in the NQ today was much broader than the move in the $INDU.  The Technology heavy NASDAQ 100 rotated downward, below the historical price support channel, and is currently resting just above the previous all-time price high near $7724.  Again, the Fed's inaction may be interpreted as an expectation of market weakness over the next few months.  Thus, traders reacted to this move by interpreting this weakness in the Fed to raise rates by selling.
Overall, leaving rates unchanged may be very healthy for the US and global economies.  The US Dollar continues to strengthen and this shake-out may be just what is needed before the Summer season for the price to continue trending.
We've recently warned that the US major Indexes are nearing our Fibonacci upside price targets and that we believe the upside price move may continue for another 20+ days still.  This current rotation may be very short-lived – possibly only 5~10 days of lower/sideways price action before trends resume an upside price bias.  Time will tell.
Overall, our prediction that a shake-out was about to happen appears to be unfolding just days after we made the claim.  Our longer-term analysis is still the same – continued upside price bias as earnings and fundamentals drive prices closer to our Fibonacci price targets before any bigger price reversal may set up sometime in July/Aug 2019.
UNIQUE OPPORTUNITY
First, we typically see stocks sell-off and as the old saying goes, "Sell in May and Go Away!"
So what does this mean? It means we should start to see money flow into the safe-haven assets like the Utility sector, bonds, and most importantly precious metals.
Second, my birthday is this month, and I think its time I open the doors for a once a year opportunity for everyone to get a gift that could have some considerable value in the future.
For May I am going to give away and ship out silver rounds to anyone who buys a 1-year, or 2-year subscription to my Wealth Trading Newsletter for the first 25 subscribers. You can upgrade to this longer-term subscription or if you are new, join one of these two plans, and you will receive:
1-Year Subscription Gets One 1oz Silver Round FREE (Could be worth hundreds of dollars)
2-Year Subscription Gets TWO 1oz Silver Rounds FREE (Could be worth a lot in the future)
I only have 25 silver rounds I'm giving away so upgrade or join now before its too late!
SUBSCRIBE TO MY TRADE ALERTS AND GET YOUR FREE SILVER ROUNDS!
Happy May Everyone!
Chris Vermeulen