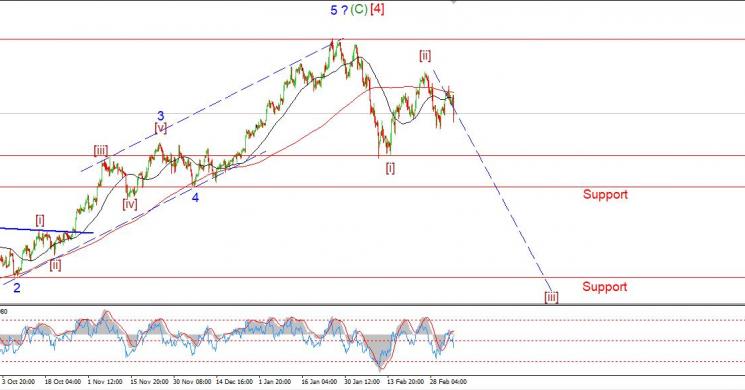 Good evening to all you fine folk!
I was going to comment on Super Mario's ECB speech this evening, But, I cannot stand central bankers, Thinking about them gives me a headache!
So instead I am going to give a quick over view As to why he is completely wrong about his forward projections for the Euro area economy, and the world economy in general.
Business optimism is at an all time high at the top of a cyclical trend, the next major move is downwards.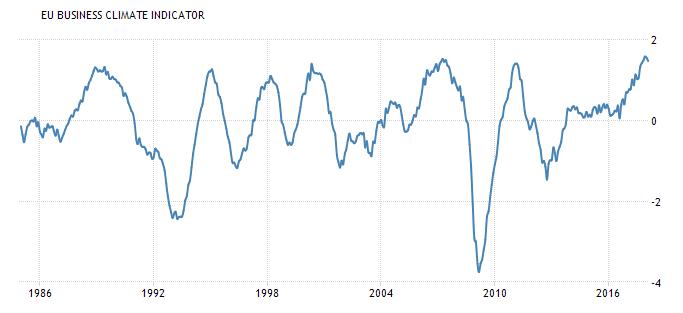 Consumer confidence sits near all time highs, again at the top of a cycle.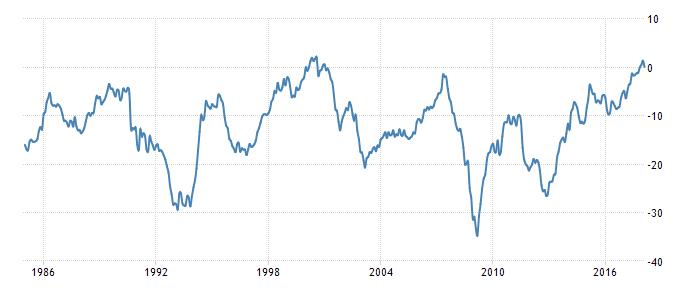 The outlook for the economy among the masses is again near an all time high,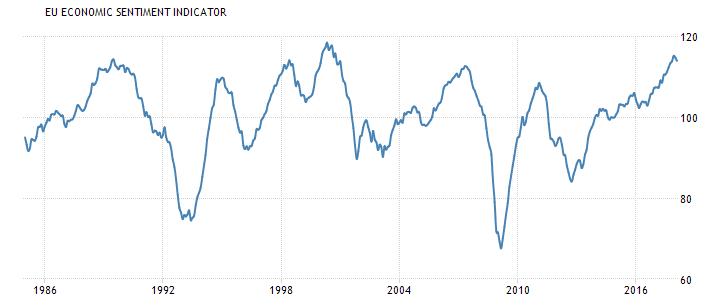 While inflation is stuck in a downtrend, this signals that economic momentum is actually dead in the water!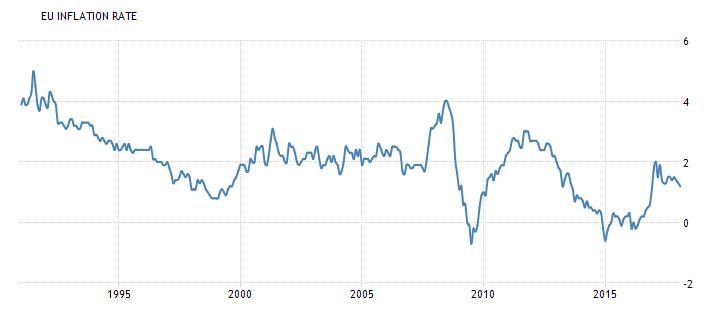 The EURO area public cannot borrow anymore credit into existence, therefore economic activity cannot expand in any meaningful fashion.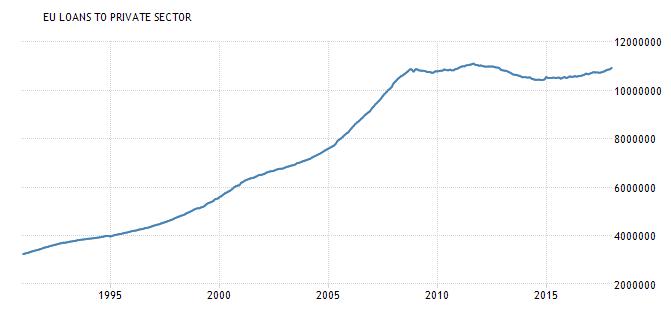 The European economy is a bubble waiting for a pin.
Right now, its held together by back door government financing by the central bank.
This will not go on.
Mario is going to be one surprised kid when his banking system falls down around his ears again!
UPCOMING RISK EVENTS:
USD: Average Hourly Earnings m/m, Non-Farm Employment Change, Unemployment Rate. EUR: N/A. GBP: Manufacturing Production m/m JPY: BOJ Press Conference
EURUSD
30 min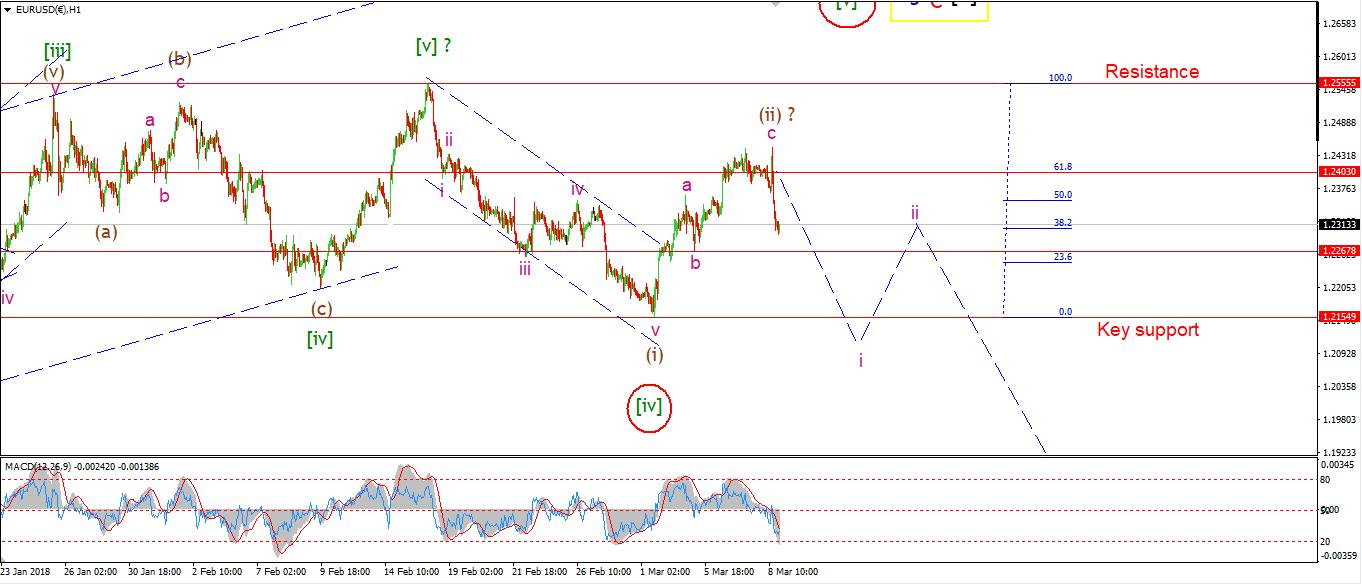 4 Hours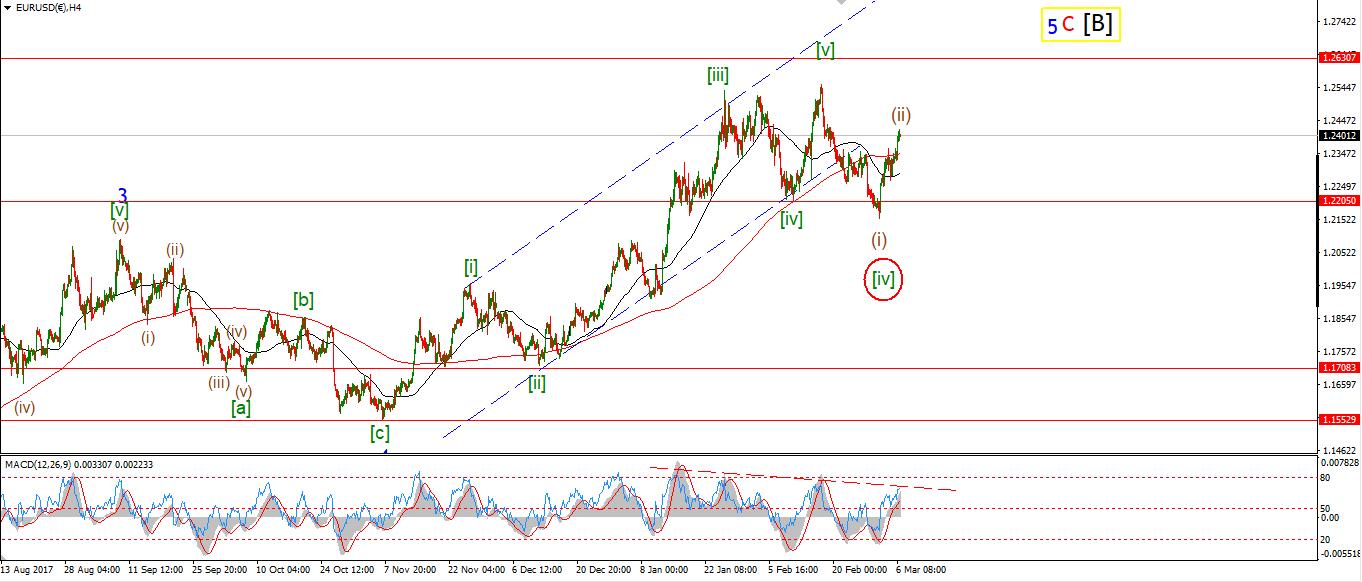 Daily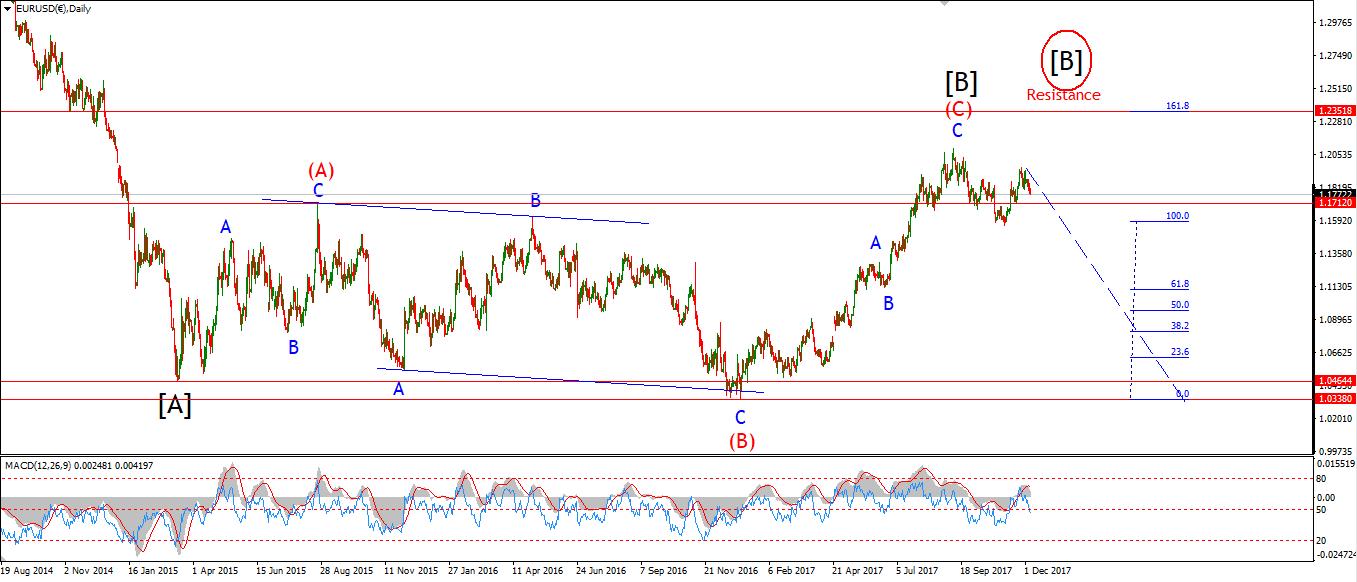 My Bias: long term bearish Wave Structure: Topping in wave [B] black. Long term wave count: lower in wave [C] black.
Despite a slight new high this afternoon, EURUSD has tanked late in the session. This action fits well with the current wave count so from here on out we should look for further declines into 1.2154 in a possible wave '1' pink.
A break of 1.2267, the previous wave 'b', will add weight to the bearish short term count.
Tomorrow; watch for a break of 1.2267 and a decline in five waves towards key support at 1.2154.
GBPUSD
30 min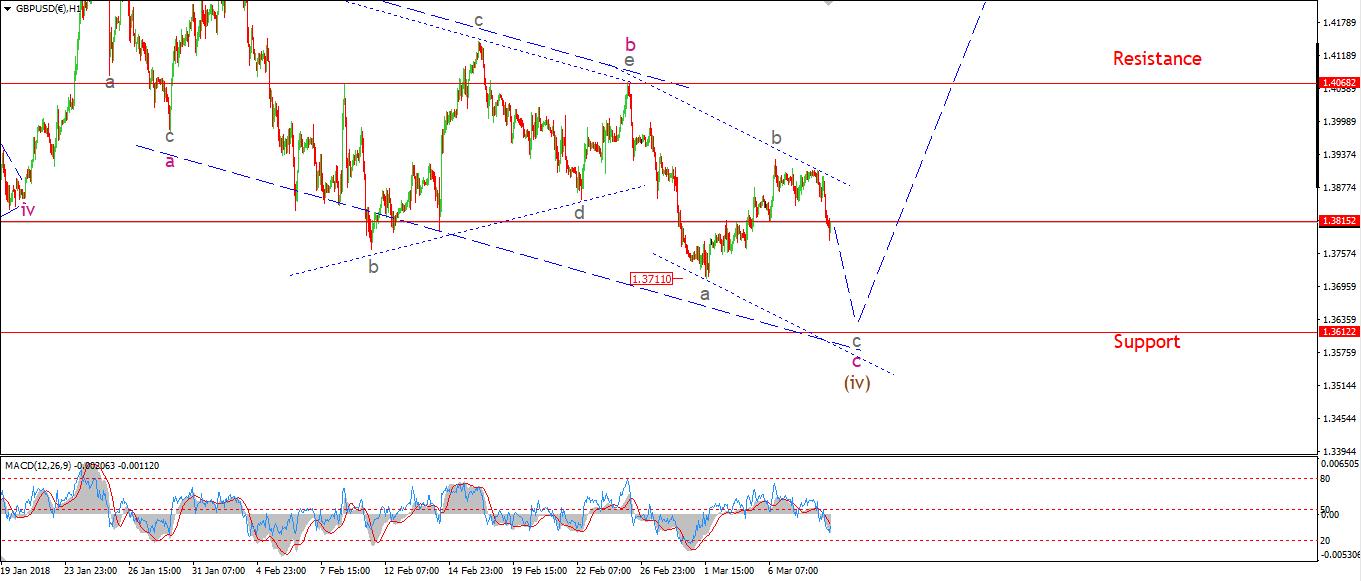 4 Hours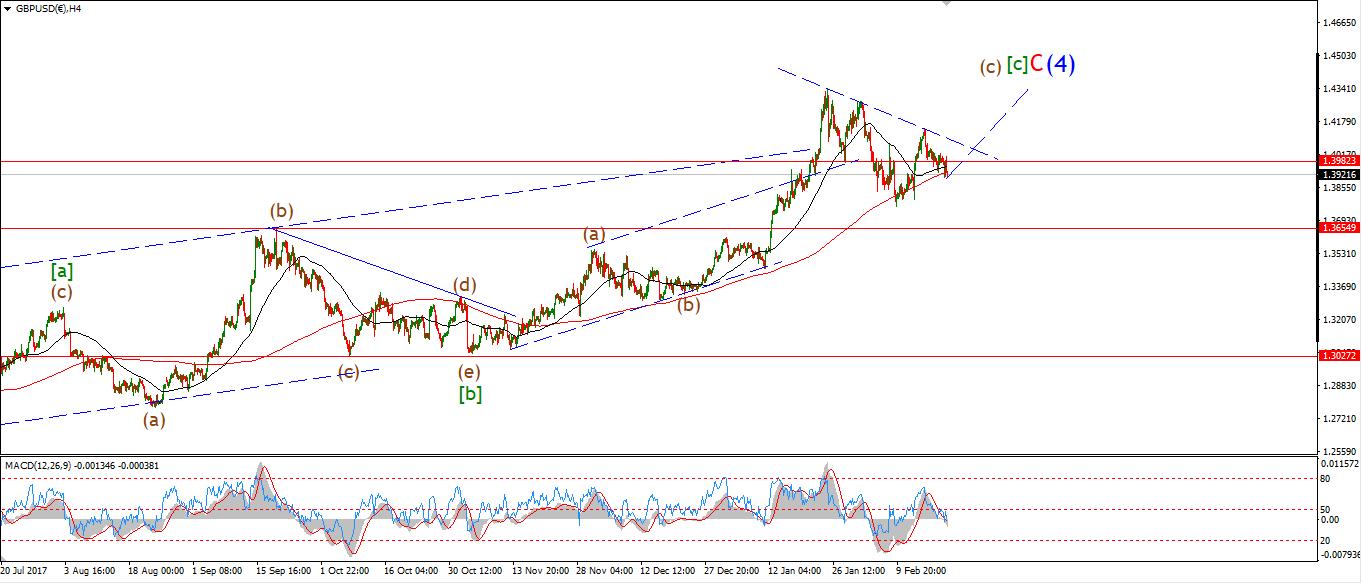 Daily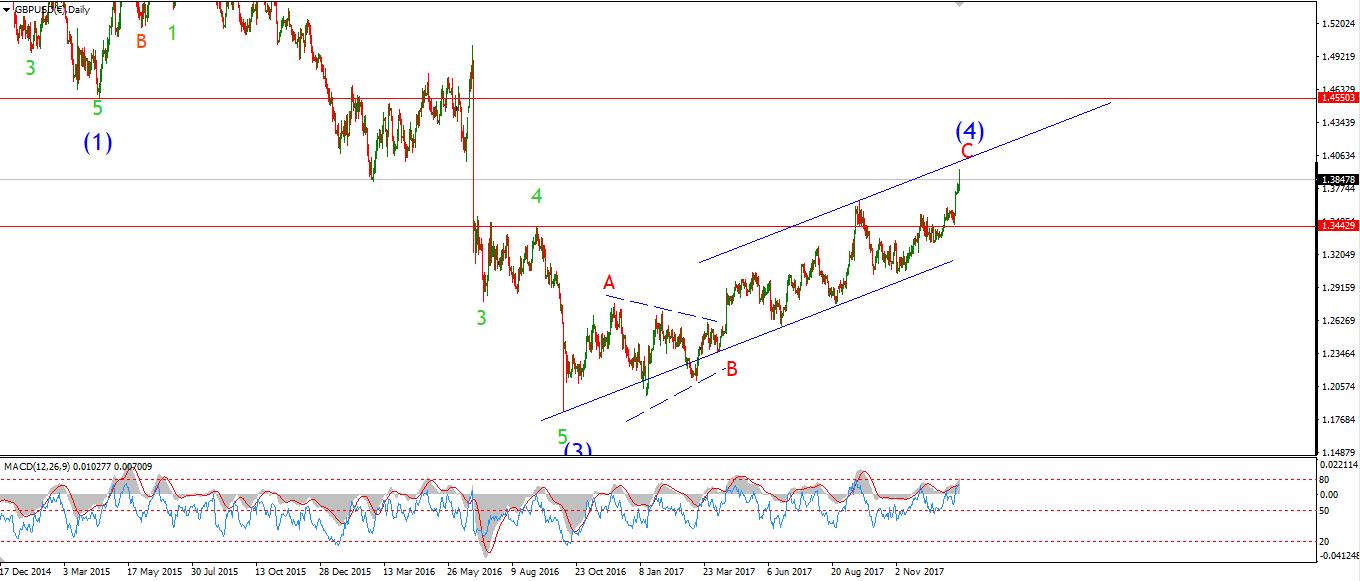 My Bias: short below parity in wave (5). Wave Structure:  completing wave (4) blue correction higher. Long term wave count: decline in wave (5) blue, below parity
GBPUSD has maintained its downside bias today. While not selling off as much as EURUSD it has broken through previous short term pivots around 1.3815. the minimum target for wave 'c' grey lies at 1.3711 the low of wave 'a' grey.
Tomorrow; watch for a continued slide to at least 1.3711. At that point it will be time to look higher again in wave (v) brown.
USDJPY
30 min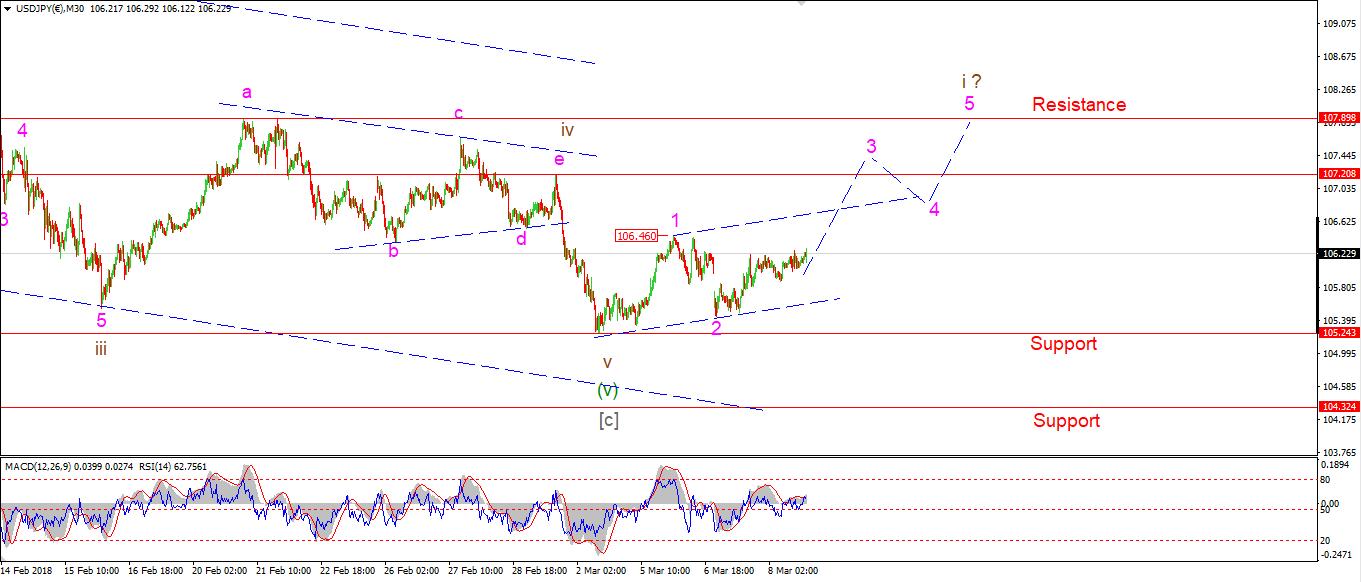 4 Hours
Daily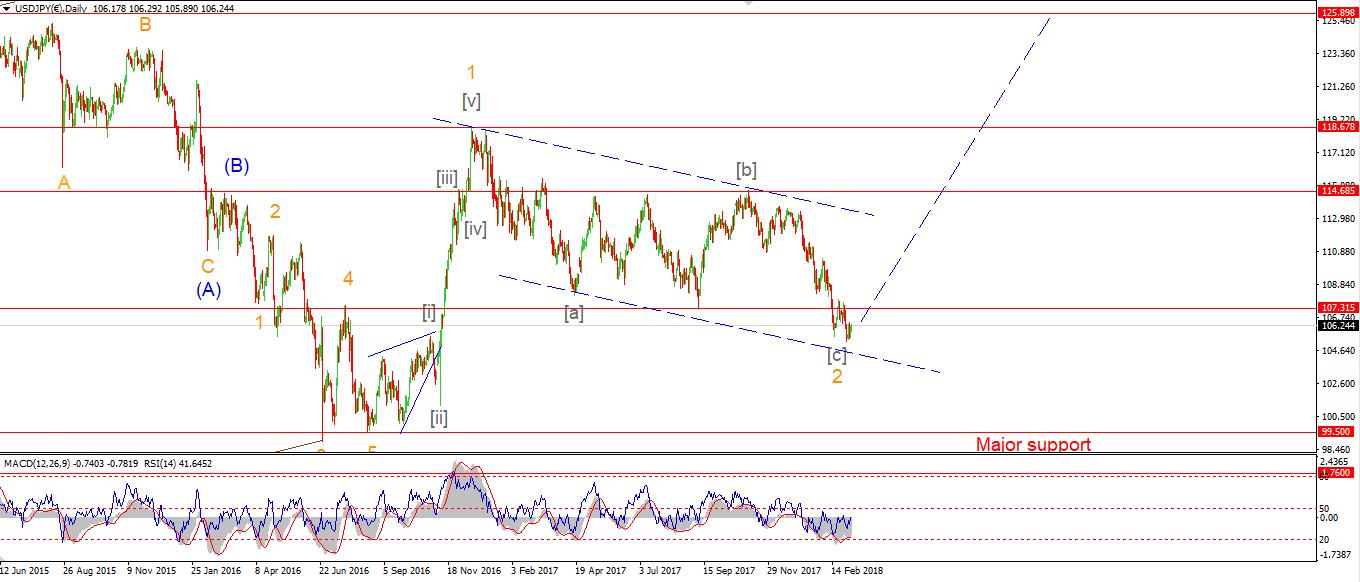 My Bias: LONG Wave Structure: rally in wave [C] Long term wave count: wave [C] is underway, upside to above 136.00
The rise off wave '2' pink is not very convincing just yet! The price must accelerate higher very soon to revive the bullish short term outlook.
On the 4hr chart the price has held below the 50MA throughout the week. Right now, it sits about 15 pips below the 50MA line. A sharp break above the line will be a very positive signal. Also, RSI is on the verge of an upside centerline cross. Daily RSI has diverged positively. This all adds to the likelihood of a major turn for USDJPY.
Tomorrow; a break of 106.46 will signal that wave '3' has begun.
DOW JONES INDUSTRIALS
30 min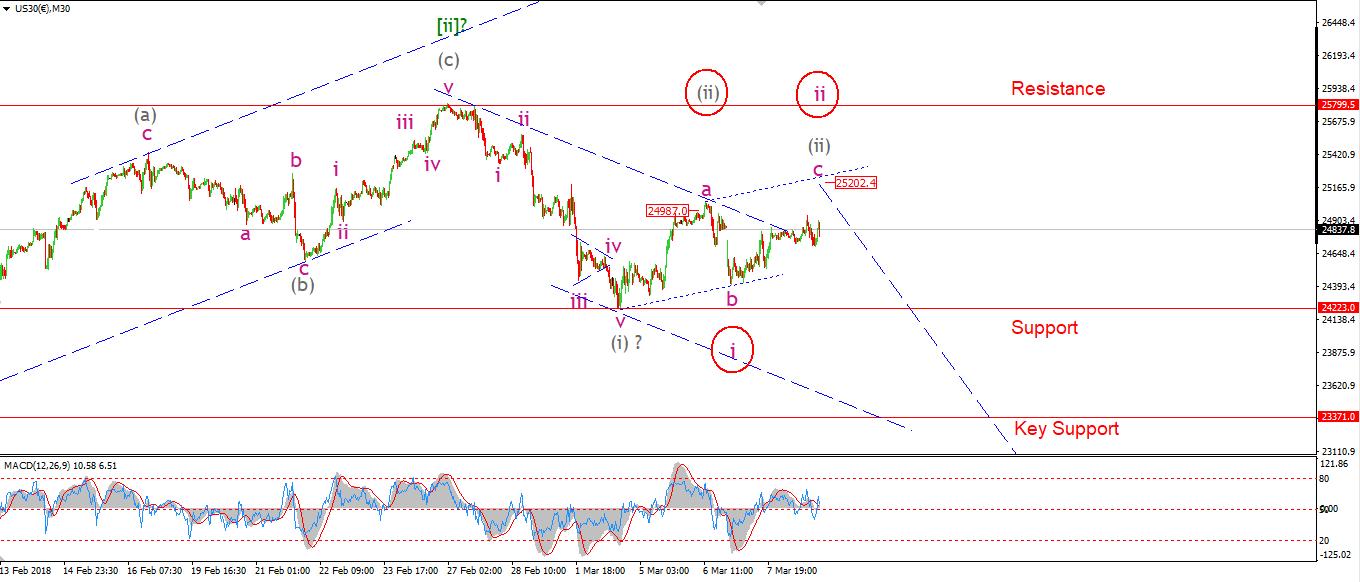 4 Hours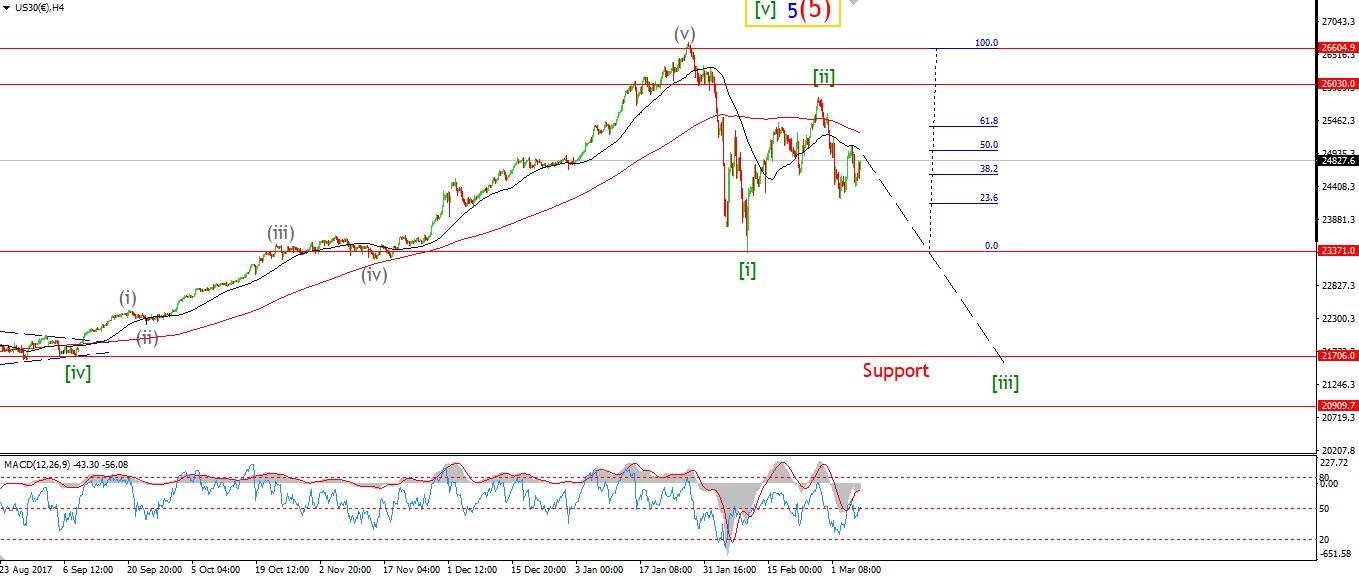 Daily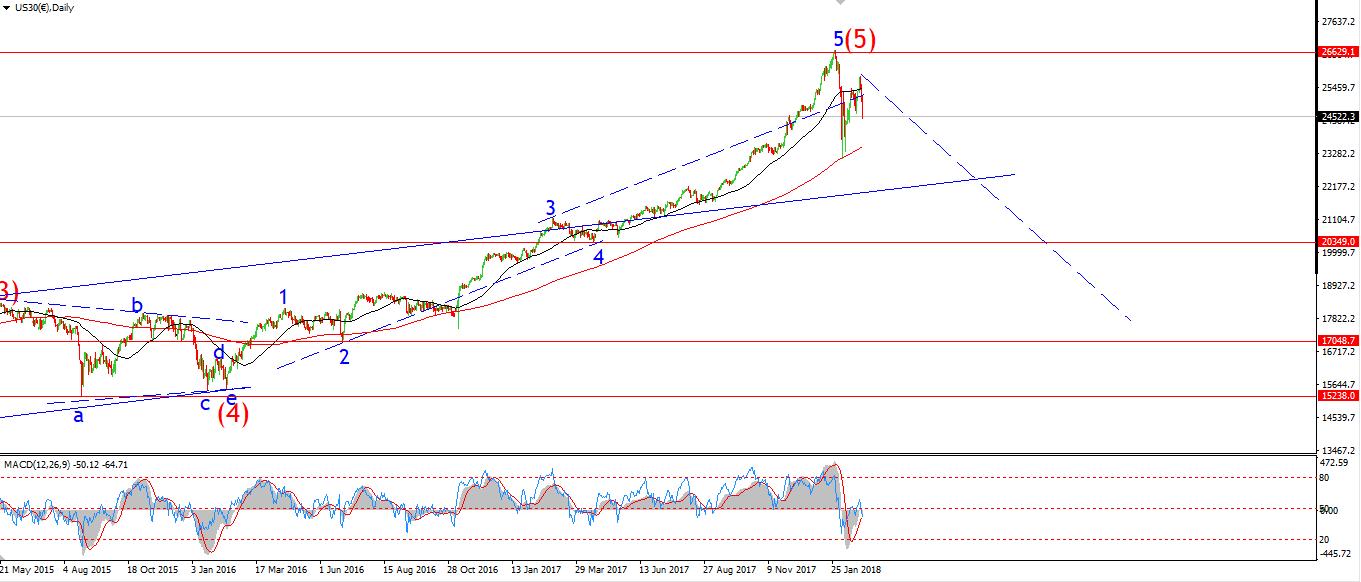 My Bias: market topping process completing Wave Structure: Impulsive 5 wave structure, topping in an all time high. Long term wave count: topped in wave (5)
The short term action in DOW jones has presented another possible alternate count. This is shown circled in red. It is possible this weeks dip and recovery is a decline in waves 'i' and 'ii' pink. If that alternate count is correct, Then a break below wave 'b' at 24537 (cash) will confirm that view. And the price will be declining in wave 'iii' of (iii) of [iii]. So, The potential for a big decline cannot be understated!
Tomorrow; The key level in the short term is 24537, Watch for a break to confirm wave (iii) has begun.
Other wise, wave 'c' pink will remain in force.
GOLD
30 min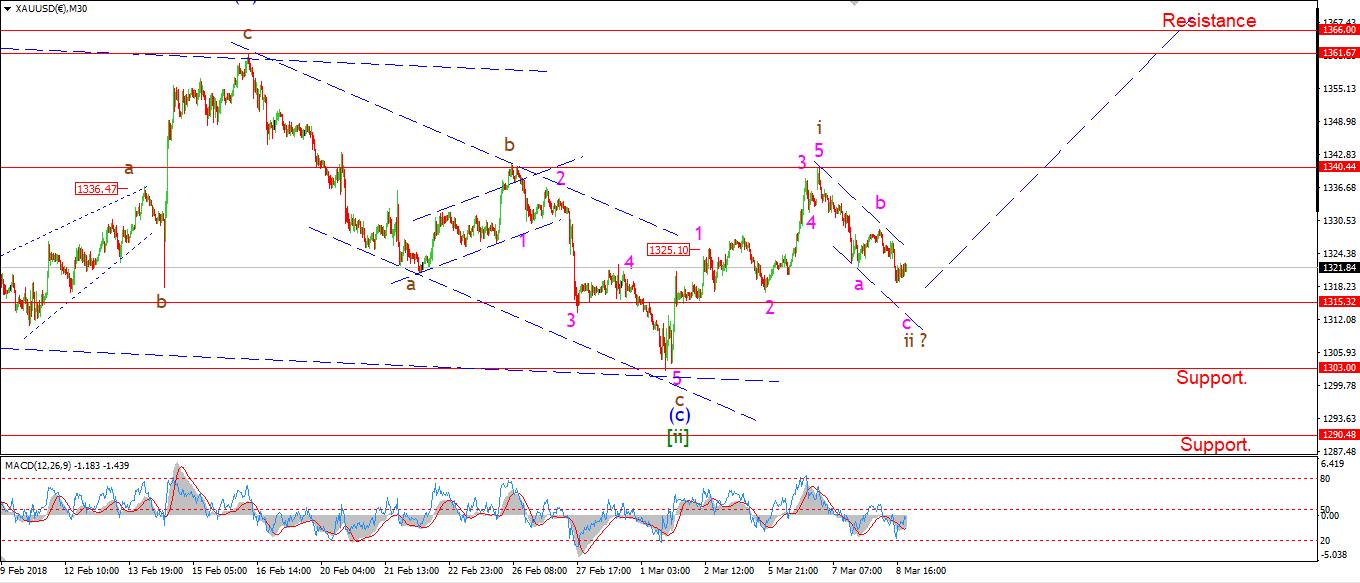 4 Hours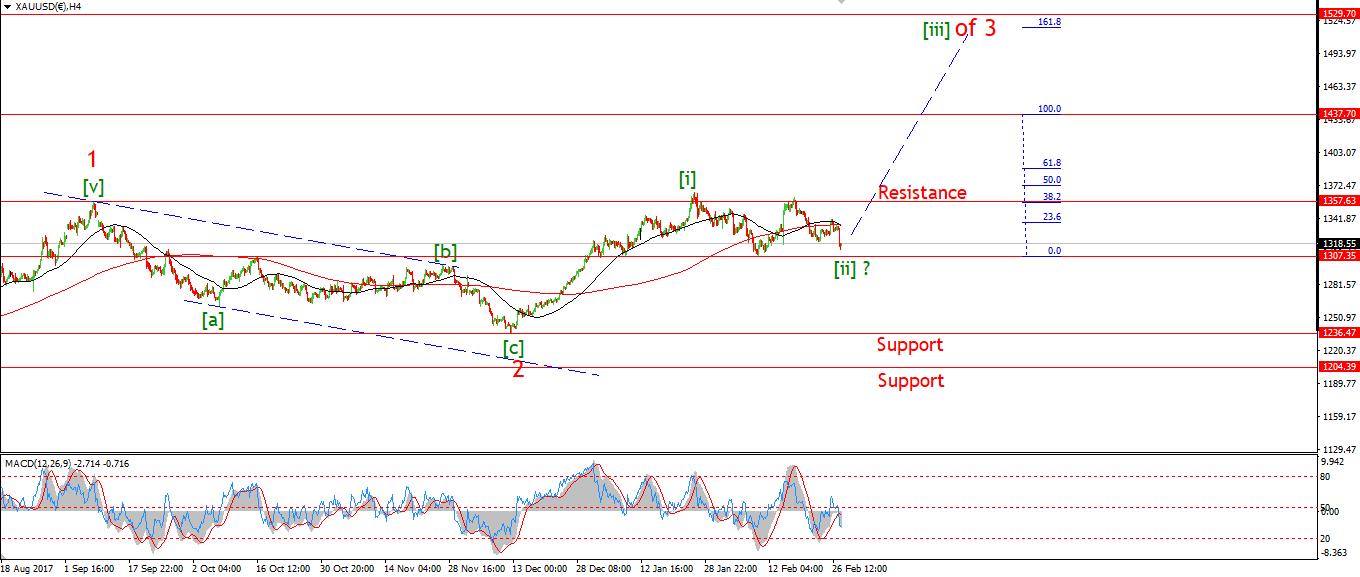 Daily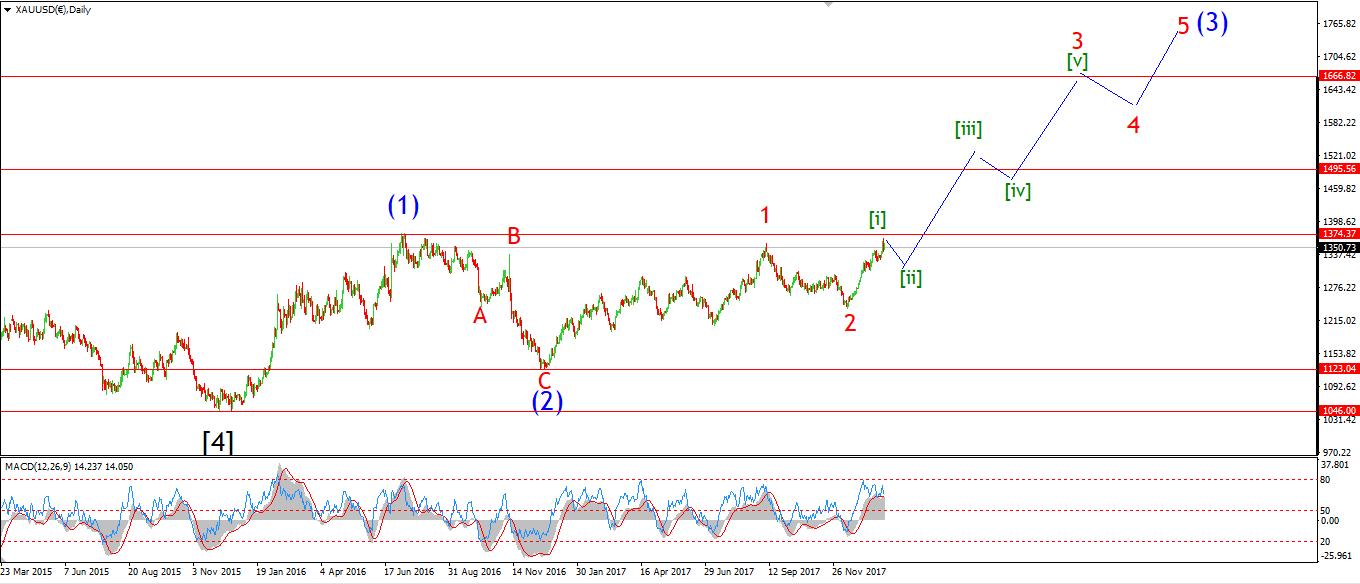 My Bias: Long to a new all time high above 1827. Wave Structure: Impulse structure to a new high. Long term wave count: wave (3) above 1666.
GOLD is following the short term pattern quite well. Wave 'b' carried the price higher out of the open, And wave 'c' is now dropping again in a possible five wave structure. the minimum target for wave 'c' has been met with a break of the wave 'a' low But, There is a nice short term support line at 1315, This level becomes the initial target for wave 'c' and wave 'ii' to complete.
Tomorrow; Watch for wave 'ii' to complete and the first move higher in wave 'iii'. Wave 'iii' will be confirmed by a break of 1341
U.S CRUDE OIL
30 min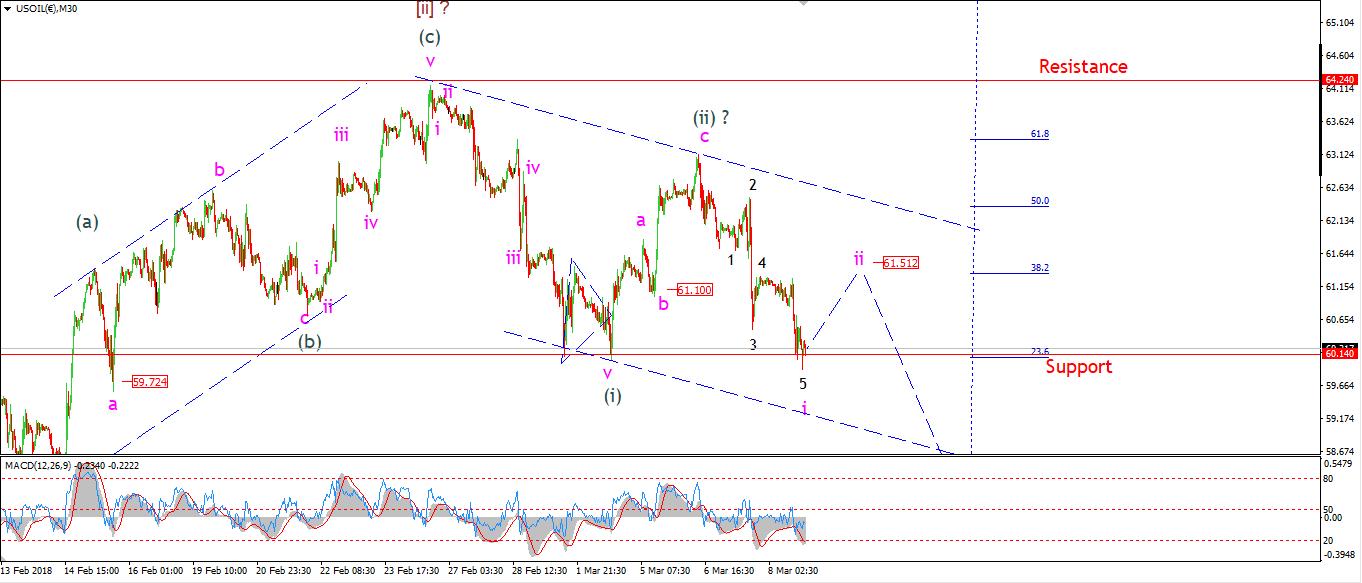 4 Hours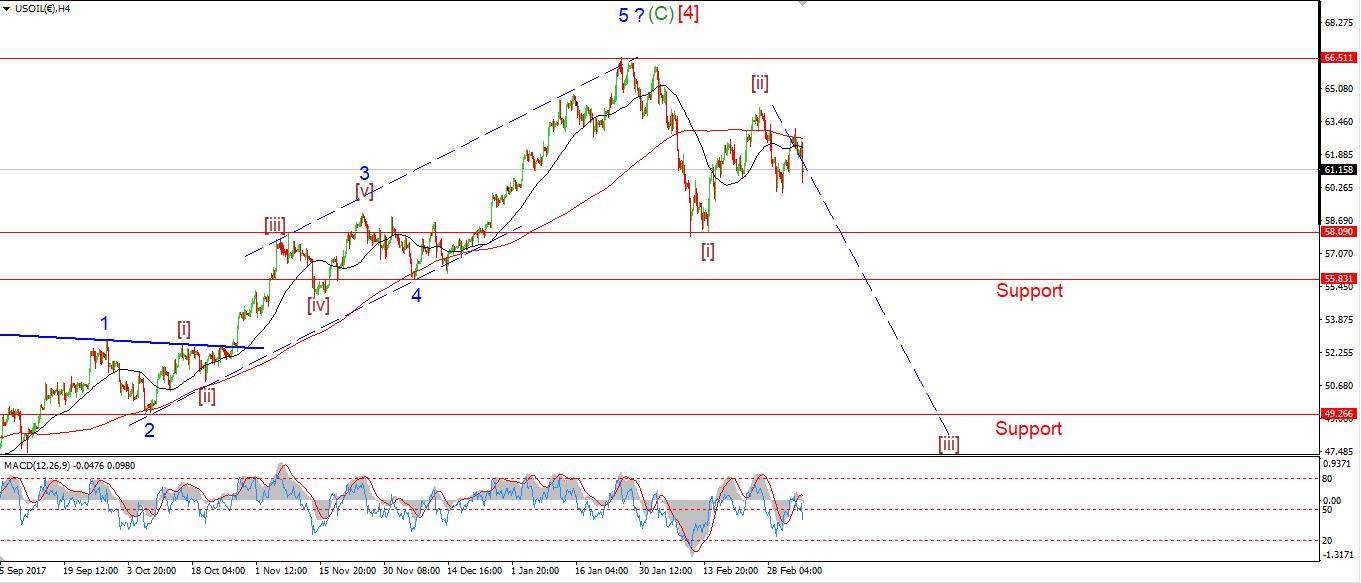 Daily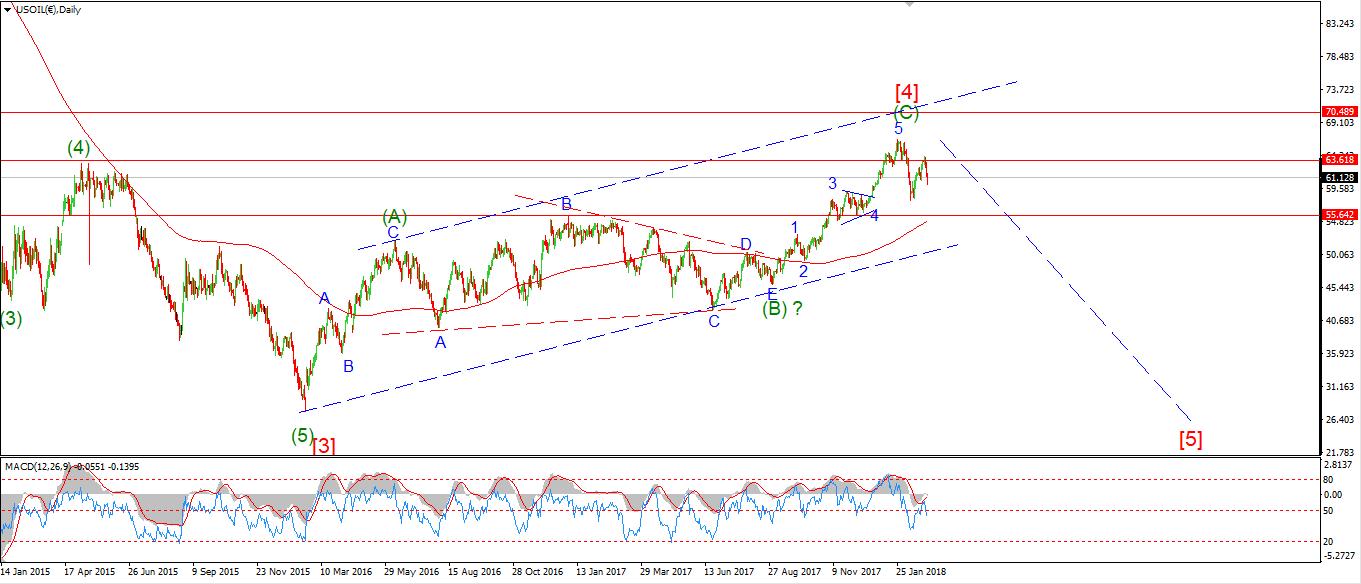 My Bias: topping in a large correction wave [4]. Wave Structure: Double combination higher in wave [4] red. Long term wave count: wave [4] target $63 - $70
Wave '5' black did arrive in CRUDE oil this afternoon as expected. the price has now completed a five wave pattern to the downside in wave 'i' pink. Also prices broke the previous low of wave (i) grey, Giving us another bearish signal to work with.
If wave 'i' is complete, That suggests wave 'ii' will create a corrective recovery to a lower high over the coming days. Once this completes The price structure will have three degrees of 1,2 waves visible to the downside. A decline in wave 'iii' of (iii) of [iii] has the potential to be devastating!
Tomorrow; A 50% retracement of wave 'i' will carry the price to about 61.50 in a three wave movement.
Read more by Enda Glynn