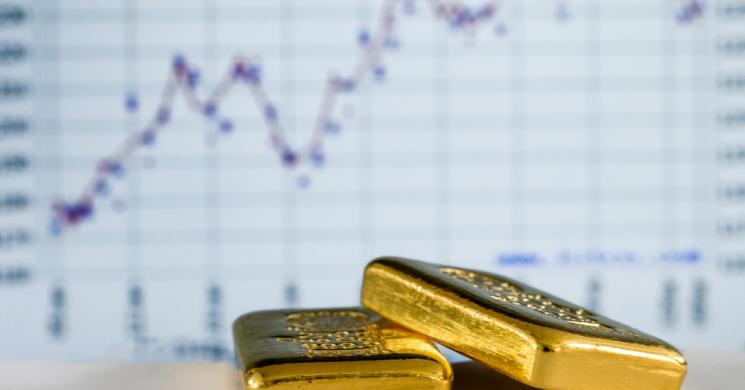 Gold and Silver trade sideways
Gold is Outperforming Silver
Trade Splat Continues to Drive Market Price Action
Gold prices a trading sideways in a relatively tight trading range. Price action has been driven by trade comments from the Trump administration and Chinese authorities. Last week, China announced tariffs on several commodities including soybeans which have helped gold prices gain traction. The weaker than expected jobs report released this past Friday weighed on the dollar and allowed gold bullion and silver bars to gain ground.
The daily chart of gold bullion shows that prices bounced near support, which is an upward sloping trend line that connects the lows in December to the lows in March and comes in near $1,320. Gold bullion was unable to recapture the 10-day moving average which is seen as resistance near $1,334. Prices continue to move sideways and have been trading in a $60 per ounce range between $1,305 and $1,365 for all of 2018.
Gold Price Chart
Momentum is neutral as prices whipsaw. The MACD (moving average convergence divergence) index is printing near the zero-index level. The MACD histogram is positive, and the trajectory is flat which reflects consolidation. The fast stochastic generated a crossover buy signal but is has a flat trajectory which also reflects consolidation. This is also true for the RSI (relative strength index) which is printing a reading of 50, which is in the middle of the neutral range and reflects consolidation.
Silver Price Chart
The daily chart of silver bullion shows prices also remain range bound. Hedge funds are bearish on silver prices and have added to their short position in futures and options according to the most recent commitment of trader's report released for the date ending April 3, 2018. According to the CFTC, managed money increased short position in futures and options by 7.2K contracts, while increasing long position in futures and options by 1.4K contracts. The current open interest reflects that hedge funds are short more than double the number of contracts that they are long. Managed money is short 73.4K contracts versus a long position of 33.8K contracts of futures and options. This could lead to a robust short-squeeze if prices can pierce through resistance. 
Resistance is seen near the 10-day moving average at $16.407. Support is seen near an upward sloping trend line that comes in near $16.17. The MACD (moving average convergence divergence) index, whipsawed generating a crossover sell signal following last week's crossover buy signal.  
Spread Between Gold and Silver Chart
Gold prices outperformed silver in the latest week hitting a fresh 2-year high.  Recent worse than expected jobs data has weighed on growth prospects capping the upside in silver.
Momentum on the ratio on a weekly basis is positive but flat, as the MACD (moving average convergence divergence) histogram prints in the black with a flattening trajectory which reflects consolidation. The RSI of the ratio edged higher which reflects accelerating positive momentum, showing that gold bullion prices are outperforming silver prices.
If you are looking to take advantage of a time to add precious metals to your portfolio, click on this link to get access to your Investment Kit or better yet, give us a call today at 800–982–6105.  
Want to read more articles like this? Sign up for our free e-newsletter, and you'll learn when new articles have been published. To see a list of recent articles visit our Treasure Coast Market News page.
Good Investing,
Treasure Coast Bullion Group