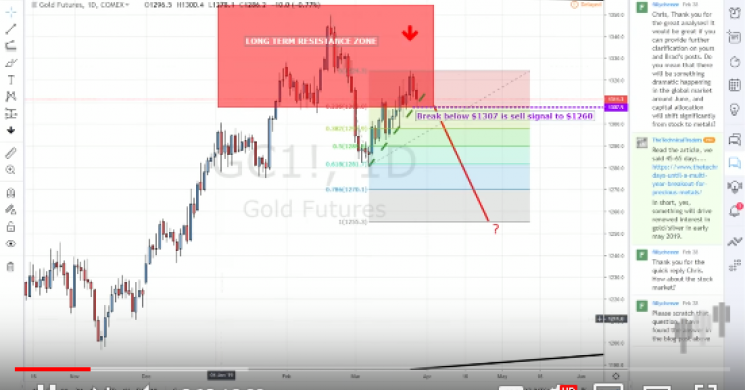 Our research team, at Technical Traders Ltd., has been all over the precious metals markets for the past 16+ months.  We've been so deep into research and study with regards to price action and technical/fundamental data, that we've been able to call market moves many months in advance.
Recently, over the past few months, we've been warning that an April 21~24 date is likely to set up an ultimate price bottom in the precious metals market. It could prompt a broader upside price swing that should eventually lead to a much bigger upside breakout move.  On March 8, 2019, we posted this article that clearly outlined our thinking at that time saying a bounce to $1315-1320 before heading down to $1255.
Take a minute to read that article and consider this current downside price action as a gift the precious metals markets are allowing for all of us.  This is the move that we've been warning about for months – the retracement from the $1315~1320 level that should bottom out near $1240~1265 and will ultimately become the "momentum base" for the future upside move.  Precious metals are starting a move that we predicted many months ago.  Our researchers believe Gold will trade below $1275 for a brief period of time (likely just a few days or weeks) before setting up a broad-based momentum bottom.  Our objective is to "leg into" this setup with a series of long trades for the ultimate upside breakout.
Our research suggests that near the end of April 2019 or in early May 2019, Gold prices will likely begin a strong upside price move that will quickly target the $1500+ price level.  We believe this current price swing will set up as the last real opportunity for skilled traders to accumulate long positions in precious metals while we wait for the April/May breakout move.  Any opportunity to buy near the lower range of our Buy Zones would be an excellent entry position given our future prediction that a massive upside breakout move is just 20~30 days away from starting.
This Daily Gold chart shows just how deep the Buy Zone is for Gold.  Any price activity below $1275 would be a solid entry for skilled traders.  Any further opportunity to add to that position below $1265 is even better.  Ultimately, we believe the $1240 to $1250 level will hold as support for the momentum bottom.
This Weekly Gold chart highlights our Buy Zone in broader price perspective.  As you can see, the $1250 level corresponds to a price peak back in October/November 2018.  We believe this level will act as long-term support and that price will bottom between $1240 and $1265 before the upside price swing begins.
This last Weekly Silver chart highlights the fairly narrow Buy Zone in silver that will allow traders to accumulate long position near of just above $16.50.  We believe this $16.50 level will become key support throughout this April 2019 lower price rotation.  Remember, near the end of April or in early May, we strongly believe a new upside price move will take place that will blow through recent highs and prompt a 12 to 25% upside price move.  Our target for Gold is above $1500 (likely $1575 to $1675).  Our upside target for Silver is $17.50 to $19.50 with this first upside leg.  Our opinion is that this initial upside leg could be the start of a much larger and much more profitable price advance – lasting many months.
If you want to join a group of professional traders, researchers, and friends, take a look at our trading newsletter to learn how we can help you find and execute better trades each month.  In fact, we are about to launch our newest technology solution to better assist our members in creating future success with our complete Wealth Building Traders Newsletter with Long-Term investing signals, Position trades, Swing trades, and our pre-market gap fill and spike day trades.
Chris Vermeulen
Read more by TheTechTrader