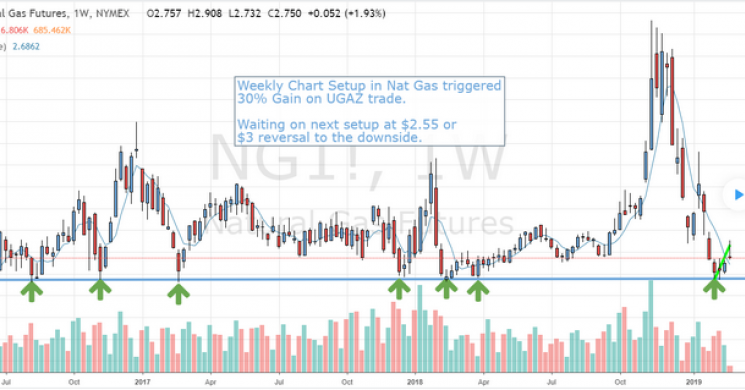 Our recent UGAX trade returned over 30% in profits in just a few days for our members.  We believe this continued price rotation below $3 will also setup new trading opportunities for skilled traders.  Traders just need to be patient and understand when the opportunity exists in NG for an upside price swing.
The $2.50~2.60 price level has continued to drive historical support in price for over two years now.  Until that level is substantially broken, we believe the opportunities for upside price rotation from near these levels is substantial.  The immediate upside targets for NG are $2.90 and $3.15.  These targets are enough for skilled traders to capture 25~30% returns in the 3x ETFs which is what we did this week in UGAZ. Larger upside opportunities exist with seasonal price pattern, but we are likely 7+ months away from another seasonal rally in NG at this point.
Still, our researchers believe any price level below $2.60 is an excellent buying opportunity with upside targets of $2.90 or higher in NG.  Trading the UGAZ ETF can provide incredible opportunities for skilled traders.
If you are bullish on gold, silver, or miners be sure to take a look at our previous gold prediction because it's playing our as expected based on the US Dollar.
Read all of our published research posts by visiting www.TheTechnicalTraders.com/FreeResearch/  We believe 2019 will be an incredible year of opportunities for skilled traders and have already helped our members find some incredible trades.  Isn't it time you invested a bit into your future success?
Chris Vermeulen Technical Traders Ltd.
Read more by TheTechTrader