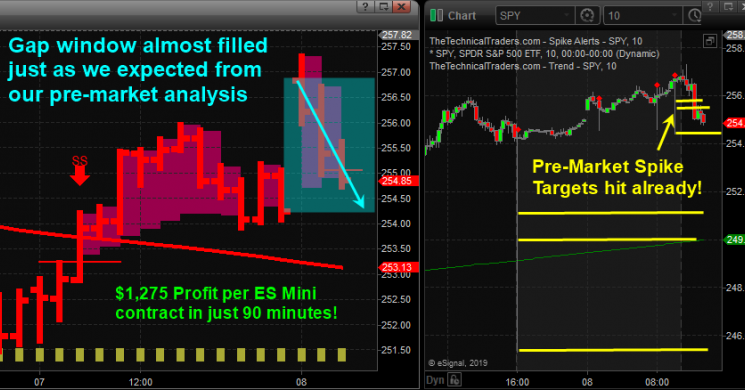 As we mentioned in an update to members Sunday night, over the next 30-60 days we are working to implement and automate some of our best trading setups (Trend/Swing trades, spike alerts, and gap trade) so they post instantly for you in the member's area.  Our goal is to provide members with 1-3 trade setups each week like clockwork.
Below is a quick update showing two setups that unfolded this morning and they are winners for those of you who are momentum and day traders. These two trade setups "Price Spikes" and "Gap Windows" are based around momentum. These trades typically reach their targets in 1-24 hours and this morning both reached our targets for quick easy money!
We are also going to be implementing our index trading signals and intraday updated chart analysis so we don't miss any trades and have a steady stream of trading opportunities.
Also, we plan to add our HotShots ETF and Stocks list so when we have a buy signal in the SP500 you can look to trade something with a high beta that is outperforming the broad market. ETFs include 3X funds for various indexes and sectors and leading high-beta stocks which move 3-20% a day at times.
2019 - 2020 is going to be full of incredible opportunities so be sure to become a paid member today to benefit!
Chris Vermeulen
Chief Investment Strategist
Read more by TheTechTrader