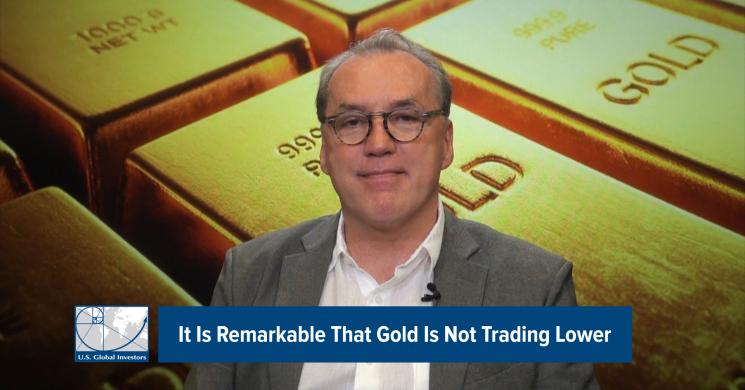 After six straight months of losses, gold could finally have found a bottom. A strong U.S. dollar and interest rate hikes have kept the price of the precious metal down so far this year and hovering around $1,200 an ounce. However, Frank Holmes believes that the yellow metal could be on the rise due to increased merger and acquisition activity, such as mining giants Barrick Gold and Randgold Resources teaming up, which is a telltale sign of an industry finding a bottom.
For the full explanation, watch the video below!
Frank Talk Live features U.S. Global Investors' CEO and Chief Investment Officer Frank Holmes as he dives into a new investment topic, from gold mining and global resources to digital currencies and emerging markets. Tune in weekly for updates on these key financial markets.
Learn more about investment opportunities in gold and precious metals by clicking here.
------------------------------------
All opinions expressed and data provided are subject to change without notice. Some of these opinions may not be appropriate to every investor.
Holdings may change daily. Holdings are reported as of the most recent quarter-end. None of the securities mentioned in the article were held by any accounts managed by U.S. Global Investors as of 6/30/2018.
U.S. Global Investors, Inc. is an investment adviser registered with the Securities and Exchange Commission ("SEC"). This does not mean that we are sponsored, recommended, or approved by the SEC, or that our abilities or qualifications in any respect have been passed upon by the SEC or any officer of the SEC.
This commentary should not be considered a solicitation or offering of any investment product.
Certain materials in this commentary may contain dated information. The information provided was current at the time of publication.
Read more by Frank Holmes