Hedge Funds are Piling into Copper
They are also buying Silver Futures and Options
Silver and Copper are Historically Correlated and Strong Growth Should Drive Prices Higher
The global growth story has experienced its ebbs and flows in 2018, but what appears to clear is that U.S. growth is strong.  The Fed is increasing interest rates to cap inflation and mitigate growth, as industrial metals prices test higher levels. Hedge funds have been piling into copper positions betting that stronger growth will lead to higher demand for base metals.  With copper on the rise, is silver next?
Hedge fund traders are betting that copper prices will continue to rise, despite the recent pullback. After testing 2018, highs, the contraction in price action has allowed hedge fund traders to buy on the dip.  The Commodity Futures Trading Commission (CFTC) in its weekly report, acknowledged that hedge fund traders were adding to their copper positions.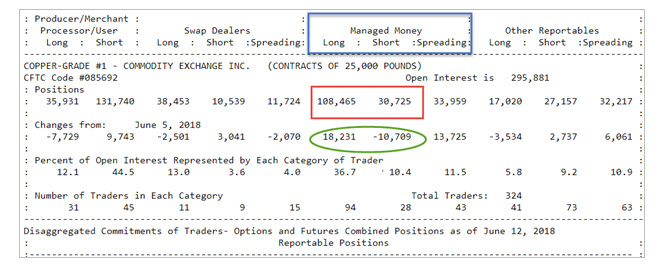 The commitment of trader's report is a weekly report that describe changes to futures and options contracts that the CFTC regulates. Each week the report will show you changes to managed money, swap dealers and other reportables. Swap dealers are banks and trading companies, and their positions usually represent the changes to commodity producers and consumers. For example, a miner or a smelter of copper. The managed money category describes hedge funds and other reportables reflect the positions of retail investors.
The According to the most recent commitment of traders report released for the date ending June 12, 2018, hedge funds added to their long position in futures and options increasing their positions by 18.2K contracts while reducing their short position in futures and options by 10.7K contracts.  According to the report, hedge fund open interest that is long copper futures and options is now 3-times as long as the open interest that is short. This shows that hedge funds are clearly betting on higher copper prices.
Hedge Funds are Adding to Their Long Silver Positions
Silver is also used as an industrial metal.  While copper is used to make machinery and in some cases for copper pipes, silver is used to create solar panels and demand for silver will increase as the housing market grows.
According to the most recent commitment of trader's report released for the date ending June 12, hedge funds added 20.5K contracts to long position in futures and options while reducing their short position in futures and options by 15.3k contracts. Open interest that is long silver futures and options outnumbers open interest that is short futures and options by nearly double showing that hedge funds are betting that silver prices will climb.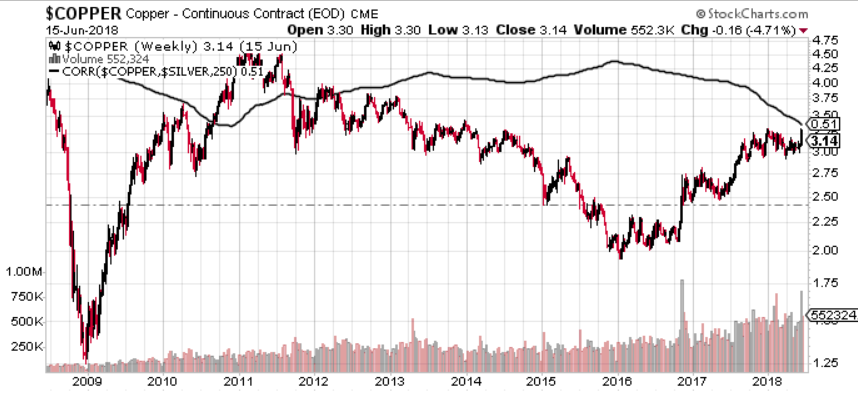 Copper and Silver Prices Are Correlated
Copper and silver prices have historically moved in tandem. You can prove this by looking at the historical correlation between the two assets. A correlation coefficient of 1, means that the prices of copper and silver move in tandem, and a coefficient of negative 1, means that copper and silver move in opposite directions. In performing a weekly correlation that evaluates the past 10-years you can see that copper and silver have had periods where they are very highly correlated. The correlation peaked at 95%, and has been as low as 51% (the present). The correlation will likely resume, and move higher, which would allow silver to follow copper prices higher. With hedge funds buying both copper and silver, they are likely betting that growth will continue driving up demand for copper and silver.
If you are looking to take advantage of a time to add precious metals to your portfolio, click on this link to get access to your Investment Kit or better yet, give us a call today at 800–982–6105.  
Good Investing,
Treasure Coast Bullion Group
Read more by Treasure Coast Bullion Group, Inc - Staff Writer