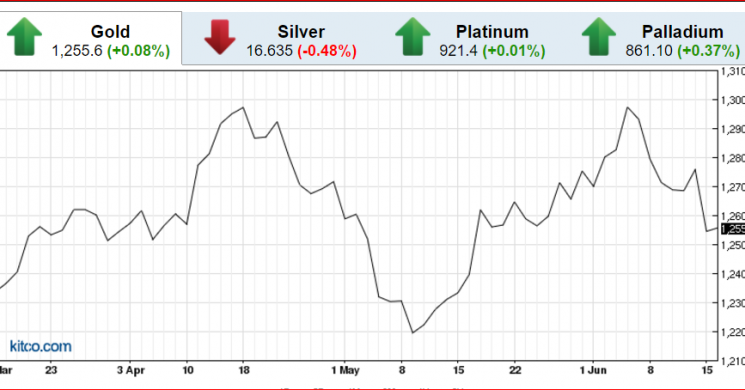 Hawk Talk By Dudley Not Helping Gold 
Fed Speak Week starts  with an affirmation that the Fed will continue to remain stingy
Dudley Hawk Talk Bearish for Stocks, Gold, and Bonds
Bullish for USD 
At 8:00 a.m this morning, Fed Bank of New York President William Dudley held roundtable in New York. Here are some key take-aways so far with our comments in italics
DUDLEY: FED DOESN'T WANT TO SLAM ON BRAKES, CAUSE RECESSION -but it cant help itself
FED'S DUDLEY: HALTING TIGHTENING CYCLE NOW WOULD IMPERIL ECON - Dudley the Dove? Wait, higher rates good for economy now?
DUDLEY CALLS WEAK PRODUCTIVITY GROWTH A `FLY IN THE OINTMENT - elephant in room more like it?
FED'S DUDLEY: "VERY CONFIDENT" THAT THERE IS "QUITE A LONG WAYS TO GO" IN THIS ECONOMIC EXPANSION - 10 year expansion with nothing to show for it agrees
FED'S DUDLEY: FLATTENING YIELD CURVE NOT A NEGATIVE SIGNAL FOR U.S. ECONOMY - Yes it is. Banks don't lend, and inversion means recession. 
And here is what the markets did per ZH: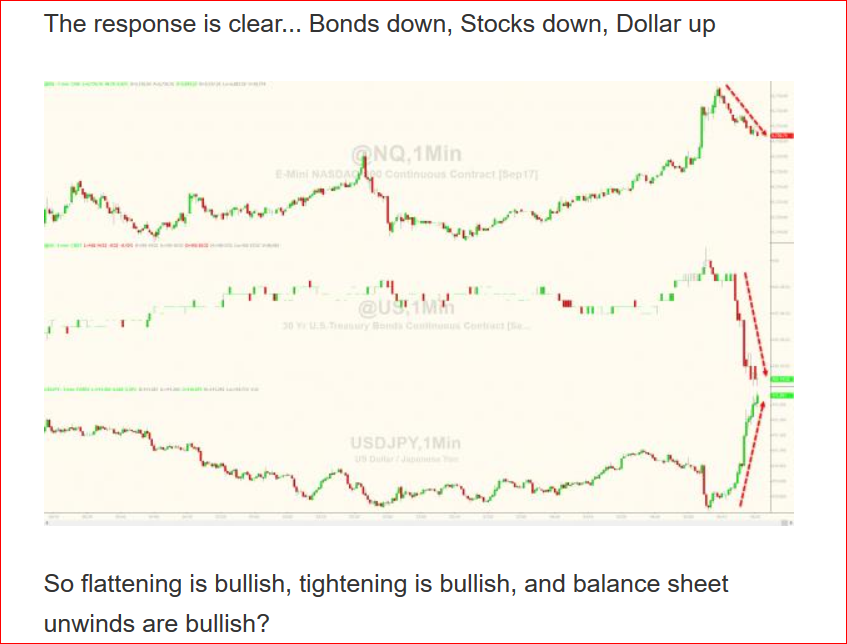 Many believe  the Fed is tightening into a recession. Inflation is off, GDP is not where it should be, employment is a mix of contradicting indicators which translate  into revisions down the road to reconcile them, and the only possible thing that can be expected is a deflation of the last asset to be inflated, stocks themselves. Banks do not make money on loans when they yield curve flattens, so they do not lend. This is historically a pretty good recessionary indicator.
Dudley proclaimed first that an inverting yield curve is not a problem... 

FED'S DUDLEY: FLATTENING YIELD CURVE NOT A NEGATIVE SIGNAL FOR U.S. ECONOMY

Which is odd because every time the curve has flattened this dramatically, the US economy has gone into recession..
Apparently, we were supposed to believe inflating the balance sheet was good  for the economy. Assuming that is correct, as we will not argue the authenticity of those with numbers for this post; Wouldn't that mean an unwind  of the Gov't balance sheet is negative? Not so in Fed world. QE was good. QT, the talk coming out of the Fed now is better. Ok, Beer anyone?
There is a full calendar of Federal Reserve speakers this week following last Wednesday's decision to hike rates: Chicago Fed President Charles Evans due to speak at 7:00 p.m. Tomorrow, Vice Chairman Stanley Fischer, Boston Fed chief Eric Rosengren, and Dallas Fed President Robert Kaplan all make public comments. Governor Jerome Powell and St. Louis Fed President James Bullard are due later in the week.
Lets see how they titrate their message based on market performance
Gold Takes it in Stride
Gold sold off BEFORE Dudley spoke in anticipation of more Hawk talk. The chart below shows that Gold may have taken most of its pain last week. But we suspect  momentum short sellers will compete with trapped spec longs above to sell below $1247 which could propel it down to the $1220's easily. Recent wave counts call the $1247 area important to the  bull pattern, with $1217 being the line in the sand. Right now it seems that an unwind is in progress, and rallies should be sold  on a short term basis, and we are seeing an overhang of longs in the market looking to sell rallies now. Remember last week when someone  sold about 30,000 contracts, we thought that was a big player selling into liquidity. Now we are seeing the smaller funds following the leader.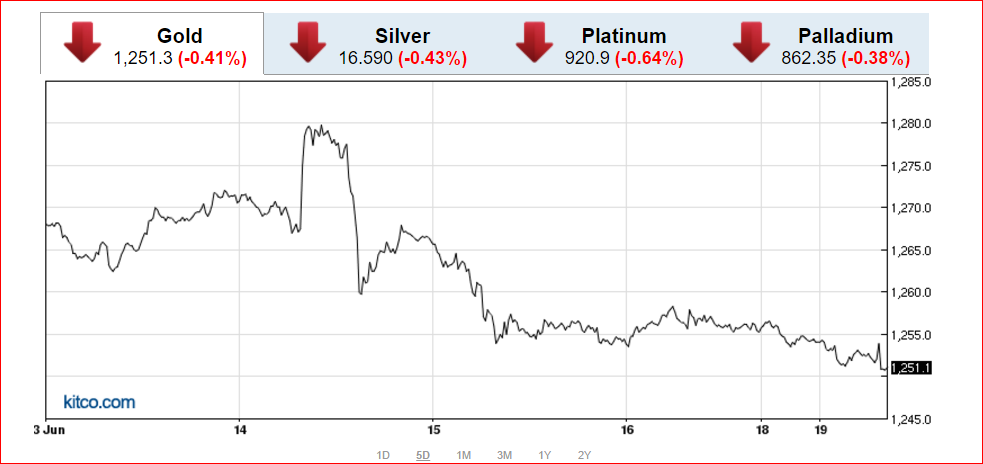 Chart HERE
Here are charts reprising last weeks Wave count where one can  see the areas we are talking about.
From the post : Buy Gold Dips above $1248
30 min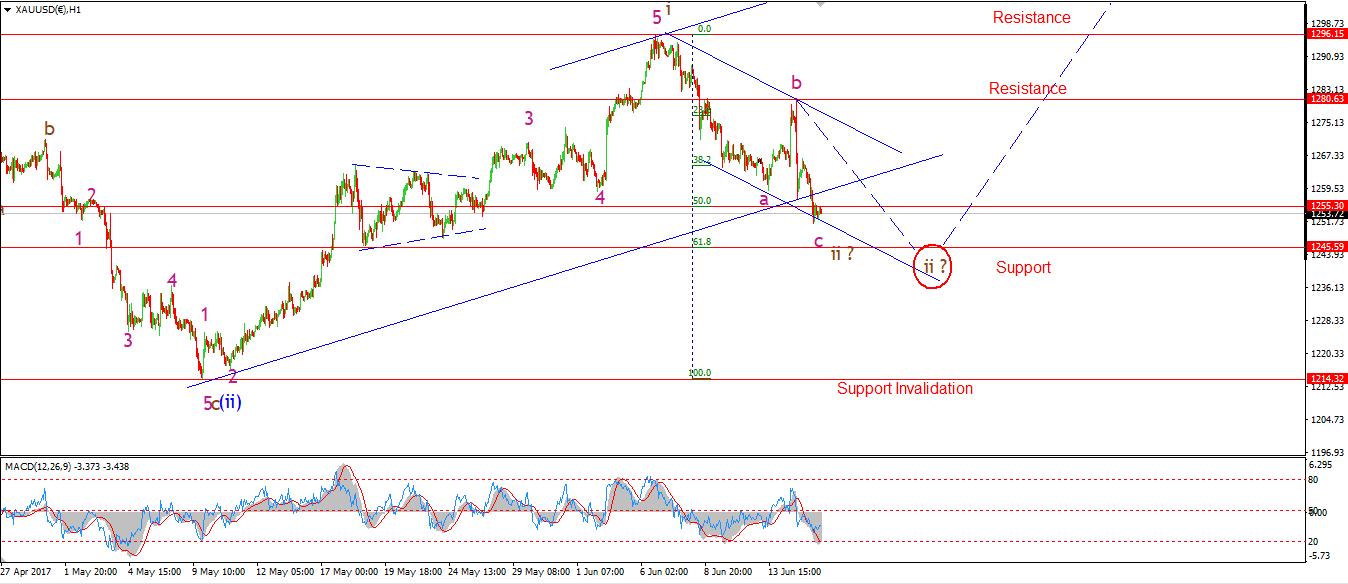 4 Hours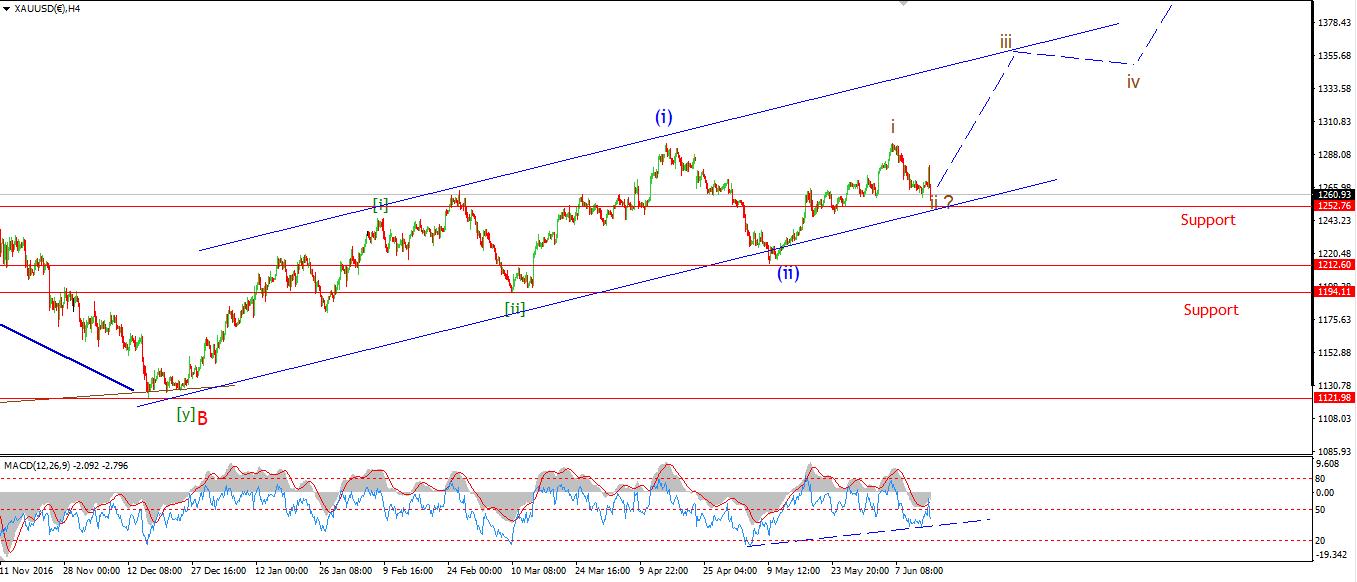 live prices  HERE
Elsewhere...
Macron wins (again)
President Emmanuel Macron's party and its allies won a comfortable majority in the French parliament, securing 350 out of 577 seats in yesterday's second-round vote. While the victory wasn't the landslide some polls had predicted, and turnout was a record low for the vote, it does bolster the young president's legislative agenda. The victory for the year-old movement sees much of the French old guard swept from parliament.
Brexit talks
Nearly a year after the United Kingdom voted to leave the European Union, negotiations began this morning on that divorce in Brussels with confusion remaining on what the U.K. wants from the breakup. The EU and U.K. teams have a lot of ground to cover, but they have at least agreed on a timetable for talks ahead of today's meeting, with the exit-deal basics due to be complete by December this year, before talks on future trading arrangements can begin. 
Here is the plan.... Got it?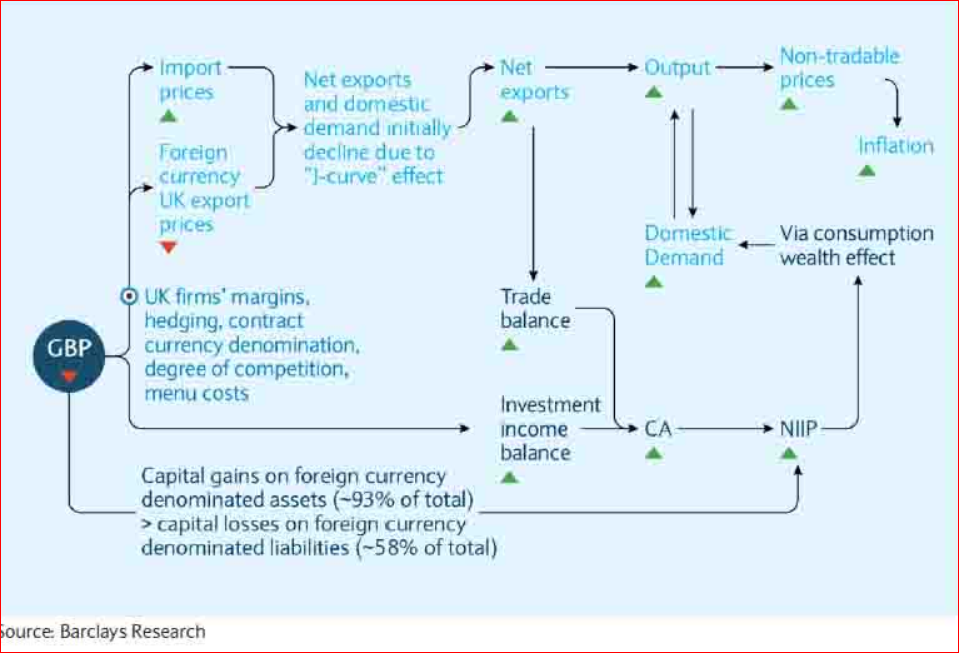 Read more by Soren K.Group