Revisiting the Trump Trade
Trump's election reaked havoc on Gold. On election night Gold spiked and then was dumped on by major fund longs who saw lower lying fruit to pursue. After all, to their rationale, if gold is a hedge for uncertainty, Trump winning removed that uncertainty and allowed them to redeployfunds into sectors they thought would benefit the most- I.E. construction and banking. In this way the Trump trade was born.
Trump's possible election was hailed as a bullish event for gold in the months prior by many, including us. But it seems that the certainty of Trump winning far outweighed what would have happened if there were no winner or a contested election like Gore-Bush.And so we and many others were wrong about Gold benefiting the most. The unknown is, where would gold be had Hillary won?
We'd bet a lot lower as her qualifications as manipulator in chief far outweigh
Trump's tactical savvy but macro morbidity. But we are now here. Woulda- shoulda doesn't cut it. Time to look for the next trade
We are currently very (too?) bullish with a macro position in physical looking for $1700 in $12 months based on one indicator. We are on the alert for confirmation ornegation of that indicator using our VBS trend tracker for momentum. We are swing trading from the short side intraday around the core position.
As hard as it is, one must look for reasons that contradict the bull thesis. The tax bill may be one. 
Bullish, ($1300) Bullish-er, ($1340) Bullish-est? Time to step back..
It seems the Tax bill, if it passes is a step towards revising the Trump Trade. Joe Weisenthal'scomments seem to catch that nicely below. And that could be bad for Gold. Assuming it passes, if gold does not test its lows post election in the $1120s, then we are more convinced than ever that despite repressivecforces natural and man made, Gold is finding its new base in the $1250-$1300 area. We just have to watch and wait. 
This far, despite end of year fund liquidation, Gold is hanging tough. Way tougher than last year. This far the Tax nill's possibility of passing has had what seems to be a muted effect on the metals. But we have to wait to see if the fall out is to come on an actual ratification or conversely how gold reacts to a complete rejection of it. Stay tuned...
In the immediate aftermath of the election, there were a number of sharp market moves that were known as the "Trump Trade." Bank shares took off on optimism over deregulation and tax cuts. Construction companies surged on hopes infrastructure spending would rise. And rates rose on expectations economic growth would jump. The tax bill is reviving the Trump Trade once more. This chart shows the KBW Regional Banking Index (white), the S&P 1500 Construction & Engineering Sub Index (blue) and 10-year rates (red.) The first two are basically at post-election highs. While rates bottomed out in early September, they still have a long way to go before reaching their recent highs. It will be interesting to see if interest-rate markets catch up.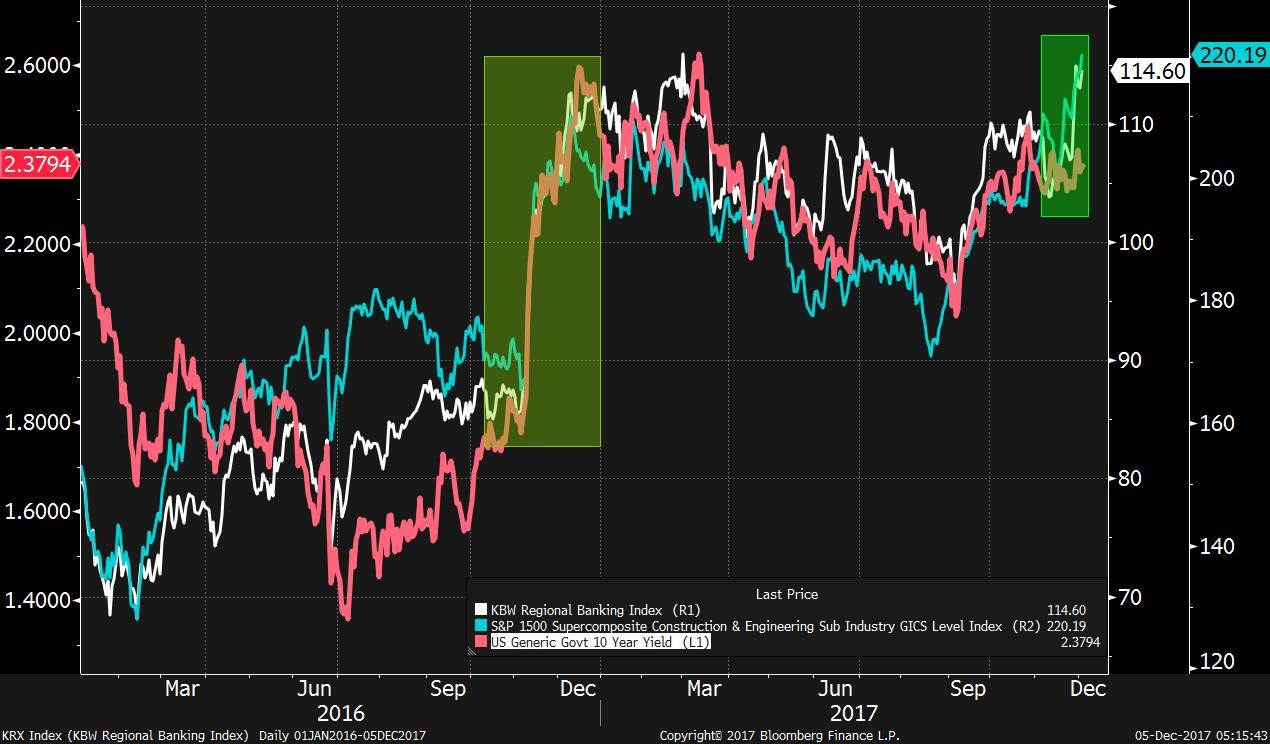 Read more by Soren K.Group