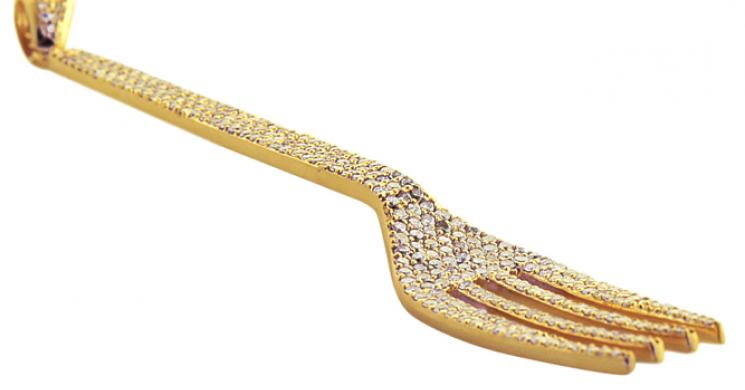 Gold Comment by Soren K, a biased bullish Gold trader who swing-trades from the short side in shorter time frames.
Note: As part of the writing team I'm adding  an edit for the casual reader whom Soren does not wish to cater to but,  I do.  Soren deals in projections and likelihoods as a product of risk reward opportunities. These are not predictions despite the black and white definitive tone he takes. Traders who read us get that. They are actionable projections he must adhere to as part of his particular discipline and the writing reflects that. Criteria  that have been met  are actionable items for active traders; and being wrong means he missed a trade. It's kind of like the system is doing the talking. Traders get it. Situations are dynamic and this is a snapshot that is part of an always changing live movie. When facts change, trades change, hopefully without too much of a loss.
It would be a lot easier if the whole story started with a disclaimer that said "Subject to change without notice"- Fay Dress (not a trader)
Gold is Overbought and the Reason to be long isn't there right now
Gold is likely done if we get below $1330. Put a fork in this first leg of the bigger rally we believe will still happen over the next 12 months. This is a quick analysis warranted because of the event filled week still ahead
This rally started with a non confirmation on the lows, and it's starting to look like it will end on a non confirmation on last week's high. Governmental stupidity aside: be careful if you are long on a spec in this area. 
1- gold's initial rally on Mnuchin talking the USD down last week has not been replicated on resumption of the freeback's descent. 
2- when allocators start to run out of money, or their clients balk  at buying gold after a nice rally, they talk  their clients into buying Silver on a relative value basis. And that is a sign that they are running out of money. That is what we saw late last week. Look where we are now. 
3- Gold is in a bull flag, which is usually healthy. Thing is, bull flags don't go beyond 5 days before resumption of the trend.. and we are close to that deadline. 
4- The compelling reason for trading Gold from the long side short term are just not there any longer since we said to buy it after the $1250 low was rejected back in a previous post. That doesn't mean it won't go up. It just means that the asymmetrical opportunity is not there right now.
5- there is substantive buying in the $1330 area which is allocator money chasing the market higher but never getting filled. We call these "pigs"  and sometimes "Tick- Dicks" who are penny wise and pound foolish. 
These guys either go to the market and buy top-tick high while the smart trading funds dump their longs and bullion banks let them chase it, or they get filled at $1330 in this iteration. And if they get filled at $1330 and those buyers are allocators simply spending money, then it is unlikely that a weekly penetration below $1330 will be bought. 
Here it is our bottom line analysis for different time frames:
60 minute- bearish on volatility cycles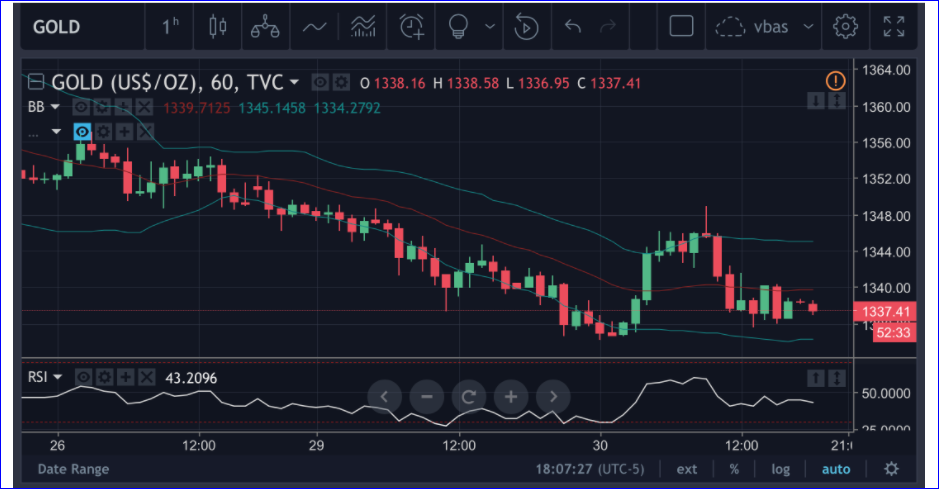 Daily- neutral for next 48 hours pending resolution of bullflag fail or breakout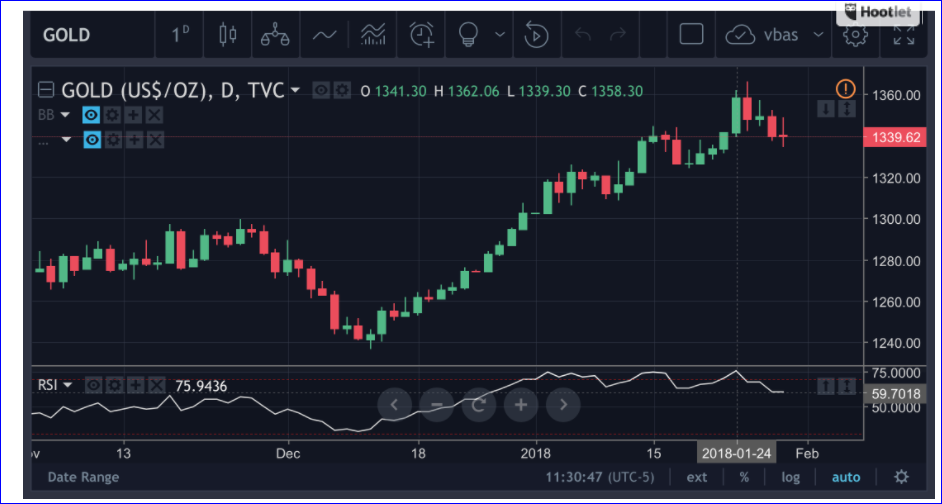 Weekly- bearish on RSI non confirmation last week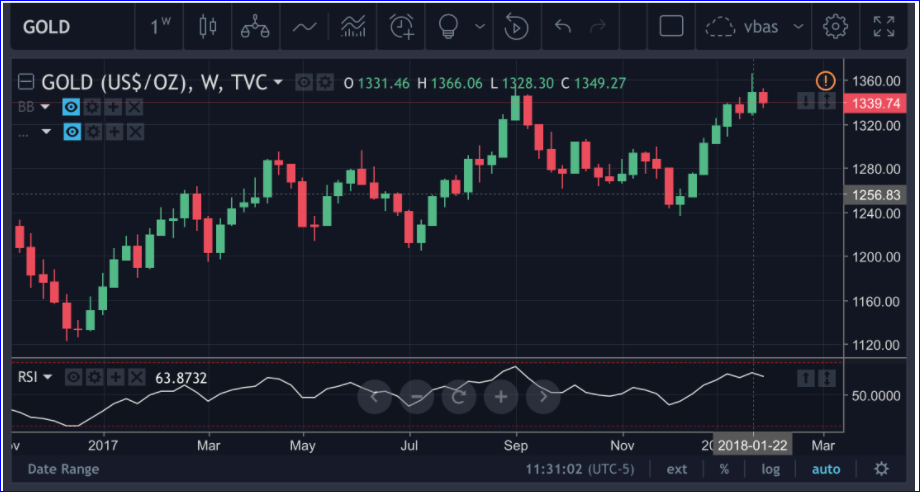 Monthly- Bullish above yellow line
The reality is- if the 60 minute bearishness doesn't reverse in 48 hours, the daily will turn bearish and the Bullflag will be no more. The weekly will then kick in in a harsh way. And that will be all she wrote for anyone who bought gold above $1300 on margin.
The good news is this won't change a thing on the monthly. At least not until we get under last months open on the $1275 area. Then very long term speculators will start selling. 
Our trading menu is as follows:
-flat here pending news items
 -sell into strength between $1400 and $1425
-flat /short under $1330
- bearish on a weekly close under $1330 (Buy 6 month $1200 puts for a lottery ticket) 
- buy first time down in the $1300 area with a tight stop. 
- short under $1300 looking to capture $25 in 3 days
- get out of the way under $1275 and wait for a new low that is not confirmed by other indicators. 
Disclosure: Don't be stupid. Think for yourself, and look upon anyone with extreme derision who gives you trade recommendations without knowledge of your personal financial situation. You know, like those guys who said "Nat Gas is a buy" after the spike.
Good Luck
P.S.- Silver will never be money again, unless they confiscate Gold. But that is for another time
Read more by Soren K.Group