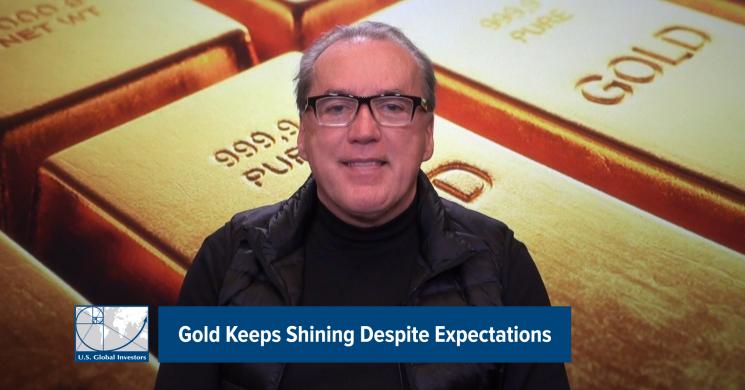 The yellow metal just saw its third straight week of gains after tumbling most of the year. Frank Holmes describes how gold should actually be much lower due to rising U.S. bond yields, but is instead showing resilience. Investors too are moving back into the space with inflows to ETFs backed by gold rising for three consecutive weeks. Frank also discusses how global central banks are adding to their gold reserves in an effort to diversify holdings.
For the full explanation, watch the video below!
Frank Talk Live features U.S. Global Investors' CEO and Chief Investment Officer Frank Holmes as he dives into a new investment topic, from gold mining and global resources to digital currencies and emerging markets. Tune in weekly for updates on these key financial markets.
Want more insights from Frank Holmes? Subscribe to his award-winning CEO blog Frank Talk by clicking here.
All opinions expressed and data provided are subject to change without notice. Some of these opinions may not be appropriate to every investor.
Diversification does not protect an investor from market risks and does not assure a profit.
The Consumer Price Index (CPI) is one of the most widely recognized price measures for tracking the price of a market basket of goods and services purchased by individuals. The weights of components are based on consumer spending patterns.
A basis point, or bp, is a common unit of measure for interest rates and other percentages in finance. One basis point is equal to 1/100th of 1%, or 0.01% (0.0001).
U.S. Global Investors, Inc. is an investment adviser registered with the Securities and Exchange Commission ("SEC"). This does not mean that we are sponsored, recommended, or approved by the SEC, or that our abilities or qualifications in any respect have been passed upon by the SEC or any officer of the SEC.
This commentary should not be considered a solicitation or offering of any investment product.
Certain materials in this commentary may contain dated information. The information provided was current at the time of publication.
Read more by Frank Holmes