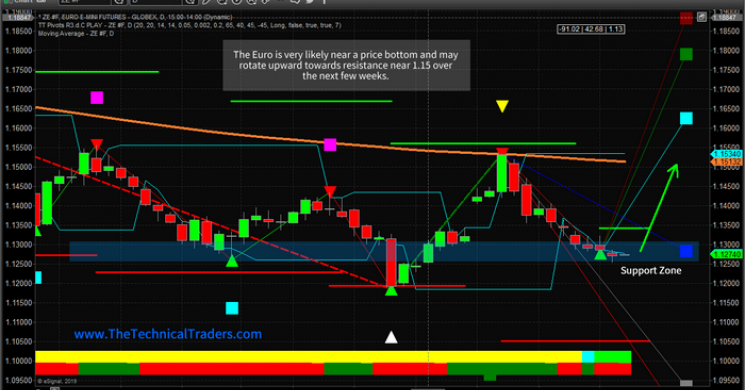 The Euro Futures chart is highlighting recent support and our proprietary Fibonacci price modeling systems are suggesting that a current support zone may be setting up for a decent upside move to near 1.15.  Momentum has stalled to the downside after the Brexit kerfuffle.  It is our opinion that this move to near 1.125 will likely hold as support and prompt an upside price move towards the 1.15 price level.
Volatility within the ZE is normal and this type of price rotation appears to continue.  An upside bottom/base near 1.125 may prompt a larger upside price swing in the Euro Futures because it relates a "higher low" price formation following Fibonacci Price Theory.  This set would indicate that a "lower low" attempt has failed and would suggest that the Euro Futures price would now attempt a new Higher High (above 1.155).
Skilled traders should watch for any breakout above 1.134 as confirmation of the upside price rally and target 1.15 or higher.  This could also drive the US Dollar a bit weaker over this same time-span.  Might be an excellent setup for quick profits.
Do you want to find a team of dedicated researchers and traders that can help you find and execute more winning trades in 2019 and beyond visit our trade alert newsletter at www.TheTechnicalTraders.com or learn our trading techniques through our Trading Courses today?
Chris Vermeulen
Read more by TheTechTrader