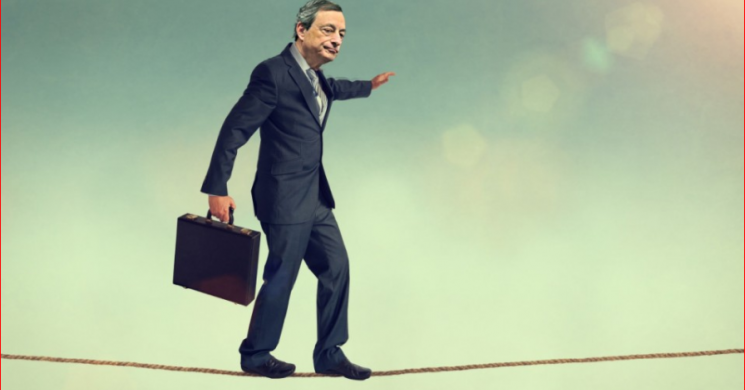 The Return of Draghi the Dove 
Can his words be trusted as his own now?
Draghi's speech Today was Dovish and a reversion back to his past consistent monetary leniency
When compared to last month's very hawkish comments, it was a reversal
There is more and more  discussion among traders that the ECB and Fed are coordinating policy speeches and on the same page
UPDATE: - Bad News is Good, and Good News is Good for Gold?
Gold  rallied when Draghi came out Hawkish in June. Today, Gold firmed up on Dovish speech. While this is by no means a trend yet; it is worth serious noting whenever Gold, like other assets ( stocks for example) begins to go up on both good or bad news. 
To us that means there is pent up demand that reacts to news as either an opportunity to buy, or a panic reason to buy.
You just cannot ignore, small as the moves were, that Gold moved higher on BOTH hawkish talk by Draghi and Dovish talk.
Reason can be explained as MSM wants to make headlines sound reasonable. "Gold rallies on fear of inflation"... Gold rallies on fear Tightening will bring easing i nthe future"
It doesn't matter. Gold has a "bid" underneath it now. That bid is in Chinese and other eastern money de-dollarizing. And the resilience of that bid, as it leaks out, may create other buyers to put their bids above the real buyers.
Just watch if Gold starts moving  higher on seemingly contradictory statements. That is a sign that flow of money is more important that policy jawboning. Then look out.
Note Cryptos are also strong today, in part because of their own industry issues, and we think in part because  there  are  more people betting on BTC being used to transfer wealth from USD to other assets
June 27th: DRAGHI FLIPS.....
Just last month, a consistently dovish Draghi surprised many with a Hawkish turn on June 27th. Here is our report from that day
Draghi Sees Yellen's Shadow?

Draghi gave a surprisingly hawkish speech this morning which moved markets accordingly. The EURO rallied against the USD, German Bunds sold off and Gold rallied. This is a reversal  of yesterday's action. More importantly it is a turnaround in Draghi's usual dovish talk. 

Speaking at the ECB's annual policy forum, he highlighted a recovering Eu in which "the threat of deflation is gone and reflationary forces are at play" . He was quick to add that if needed again, easy money is at the ready.  What makes this interesting is that it comes while all the bankers  are together in London.
The markets were caught off guard then. Gold spiked on Draghi's Hawkish sentiment. (recouping much of the previous day's flash slam lower) Stocks sold off, and German Bund yields rallied. 
But if one were to look at our own Fed policy of raising rates for the past several cycles, it made some sense that Draghi was asked, or indeed needed to dial back the dovish rhetoric we had come to expect. Vince Lanci, an SKG contributor had this to say on Draghi's June 27th  morning on the topic of the FED, ECB, and BOJ working in unison 
That is net - net not a big deal for Gold. If all 3 central bankers are going to tighten, then the yellow metal will gyrate as each Fed head talks and acts. This will not affect the potential geo-political drivers of gold. But it will create some dollar denominated volatility and shake out weak players.Yesterday's flash crash and this morning's rally are examples of that.  Just don't call it a risk off when  Gold rallies after Draghi speaks hawkishly. 
July 20th: Draghi Flops...
Today, Draghi seemingly reversed (or reverted) back to his more dovish stance. Gold recouped most of its losses in a generally muted reaction.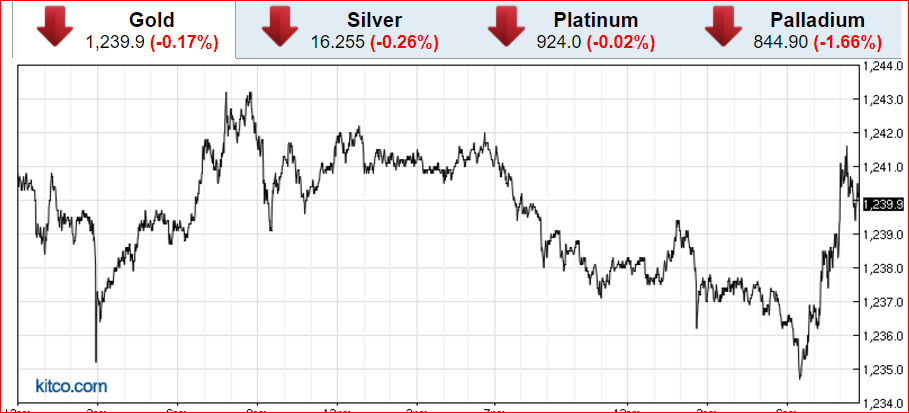 Click HERE for  Price  Updates
Here are  his key points from the prepared speech
The incoming information confirms a continued strengthening of the economic expansion in the Euro area which has been broadening across sectors and regions. The risk to growth outlook are broadly balanced.
While the on-going economic expansion provides confidence that inflation will gradually [indiscernible] to levels in line with our inflation aim, it has yet to translate into stronger inflation dynamics. 
Headline inflation is damped by the weakness in energy prices. Moreover, measures of underlying inflation remain overall at subdued levels.
Therefore, a very substantial degree of monetary accommodation is still needed for underlying inflation pressures to gradually build up and support headline inflation developments in the medium term. If the outlook becomes less favorable or if financial conditions become inconsistent with further progress towards a sustained adjustment in the path of inflation, we stand ready to increase our Asset Purchase Program in terms of size and/or duration.
And from Bloomberg, mostly dovish statement were quoted from  Draghi today
*DRAGHI SEES RATES AT PRESENT LEVEL WELL PAST END OF QE
*DRAGHI: QE WILL RUN AT EU60B/MONTH PACE THROUGH AT LEAST DEC.
*DRAGHI: QE WILL RUN UNTIL ECB SEES SUSTAINED INFLATION PICKUP
*DRAGHI SAYS ECB MEASURES PRESERVE FAVORABLE CONDITIONS NEEDED
*DRAGHI SAYS INCOMING DATA CONFIRM STRENGTHENING ECONOMY
*DRAGHI SAYS RISKS TO GROWTH ARE BROADLY BALANCED
*DRAGHI SAYS RECOVERY HAS BROADENED
*DRAGHI SAYS ECONOMIC EXPANSION HAS YET TO FED THROUGH TO PRICES
*DRAGHI SAYS HEADLINE INFLATION DAMPED BY WEAK ENERGY PRICES
*DRAGHI SAYS UNDERLYING INFLATION PRESSURES REMAIN SUBDUED
*DRAGHI SAYS VERY SUBSTANTIAL DEGREE OF ACCOMMODATION IS NEEDED
*DRAGHI SAYS ECB READY TO BOOST SIZE, DURATION OF QE IF NEEDED
*DRAGHI SAYS SURVEY RESULTS SIGNAL SOLID, BROAD-BASED GROWTH
*DRAGHI SAYS STIMULUS PASS-THROUGH SUPPORTS DOMESTIC DEMAND
*DRAGHI SAYS GLOBAL RECOVERY SUPPORTS TRADE, EXPORTS
*DRAGHI SAYS EURO-AREA GROWTH DAMPED BY SLUGGISH REFORM PACE
*DRAGHI SAYS RISKS TO GROWTH ARE BROADLY BALANCED
*DRAGHI SAYS MOMENTUM INCREASES CHANCES OF STRONGER UPSWING
*DRAGHI SAYS DOWNSIDE RISKS PREDOMINANTLY DUE TO GLOBAL FACTORS
*DRAGHI SEES INFLATION AROUND CURRENT LEVEL IN COMING MONTHS
*DRAGHI SAYS MEASURES OF UNDERLYING INFLATION REMAIN LOW
*DRAGHI: CORE INFLATION TO RISE GRADUALLY OVER MEDIUM TERM
*DRAGHI: CORE INFLATION HAS YET TO SHOW CONVINCING UPWARD TREND
*DRAGHI: ECB MEASURES SUPPORT BORROWING CONDITIONS SIGNIFICANTLY
*DRAGHI SAYS STRUCTURAL REFORMS MUST BE STEPPED UP SUBSTANTIALLY
*DRAGHI URGES OTHER POLICY ACTORS TO CONTRIBUTE MORE DECISIVELY
*DRAGHI SAYS ECB TOOK STOCK OF CONTINUED IMPROVEMENT IN ECONOMY
And the end result of Draghi's latest reversal: a hawkish spike in the EURUSD?
Draghi's turnabout makes some sense when looked at in the context of our own recent FOMC behavior as well. It is becoming widely accepted now that the Fed will continue to raise rates despite the clear lack of inflation. Reasons cited by some are a need to reload for the next panic, a desire to deflate the stock bubble sooner rather than later, and a Fed that is anticipating future fiscal easing from Trump. 
But whatever the reason, it seems now that Draghi is on board and toeing the line with the US stance.
Vince again today:
Draghi's retrieved reformation would add credence to the collaboration between the ECB and the FED. As a trader when one looks at the substantial drop off in market expectations of further US rate hikes, in combination with Draghi's seemingly speaking with Yellen's hand up his shirt, we can start to think  the Fed has all the bullets it needs for a future easing if needed. 
Regardless of your opinion on the next Fed move, it is hard ot ignore the fact that the One World Central Banking Club is on the same page once again. 
And that is bad for  Draghi's credibility
Read more by Soren K.Group